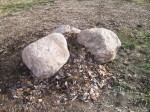 I so miss my time on the prairie.  I was there ten days ago and already want to return.  Speaking at the Champaign County Audubon Society's monthly meeting brought me out to Champaign, Illinois.  Creating a Habitat Garden at Carrie Busey Elementary School in Savoy, Illinois will bring me back.  "How tall is the oak tree?, Have the insectary shrubs filled out?, Are birds using the dead wood spire as a perch?" and so many more questions that will gnaw at me over the years.  I miss my children (the trees, shrubs, wildflowers, and animal habitats) in Savoy.
Here is my Native Plants and Wildlife Gardens post.  If nothing else, I hope you get what a pleasure meeting and working with those Illinoisans involved was.
http://nativeplantwildlifegarden.com/school-habitat-garden-in-illinois-prairie-country/
And if you like the buffeting sound of a windy day, then here are two videos of my Habitat Garden installation at Carrie Busey Elementary School in Savoy, Illinois:
The Before — Habitat Garden
The After — Habitat Garden
Any school out there looking for a Habitat Garden?  Give me a buzz — I'll give you a flower.   Enjoy your precious time on our glorious Planet Earth.  And when in doubt, Habitat It!
Tony