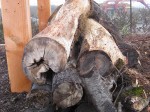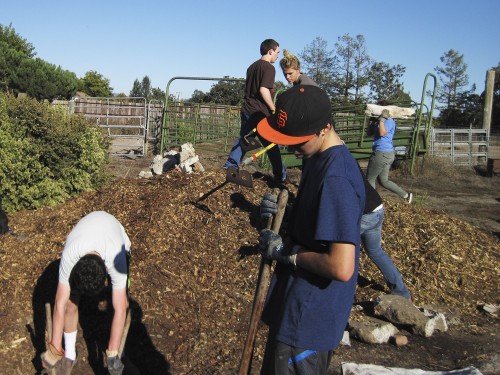 Compost Cricket Corral is a wildlife habitat installation at The Laguna de Santa Rosa Foundation's complex, Laguna Environmental Center, in Santa Rosa, California, 95401.
Compost Cricket Corral, installed on October 8, 2014 (2 days ago at this writing), is also about both creating an efficient compost system for the Laguna Environment and also having students experience working with Nature, in Nature.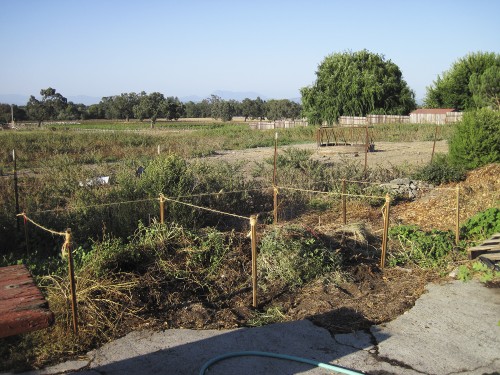 Stakes mark the pole locations for Compost Cricket Corral. Nice view of Stone Farm's northern pasture, Irwin creek, and Mount St. Helena while we work! The above pic is where Spore Lore left off detailing the progress of Compost Cricket Corral, on 9-4-2014: "Compost Cricket Corral".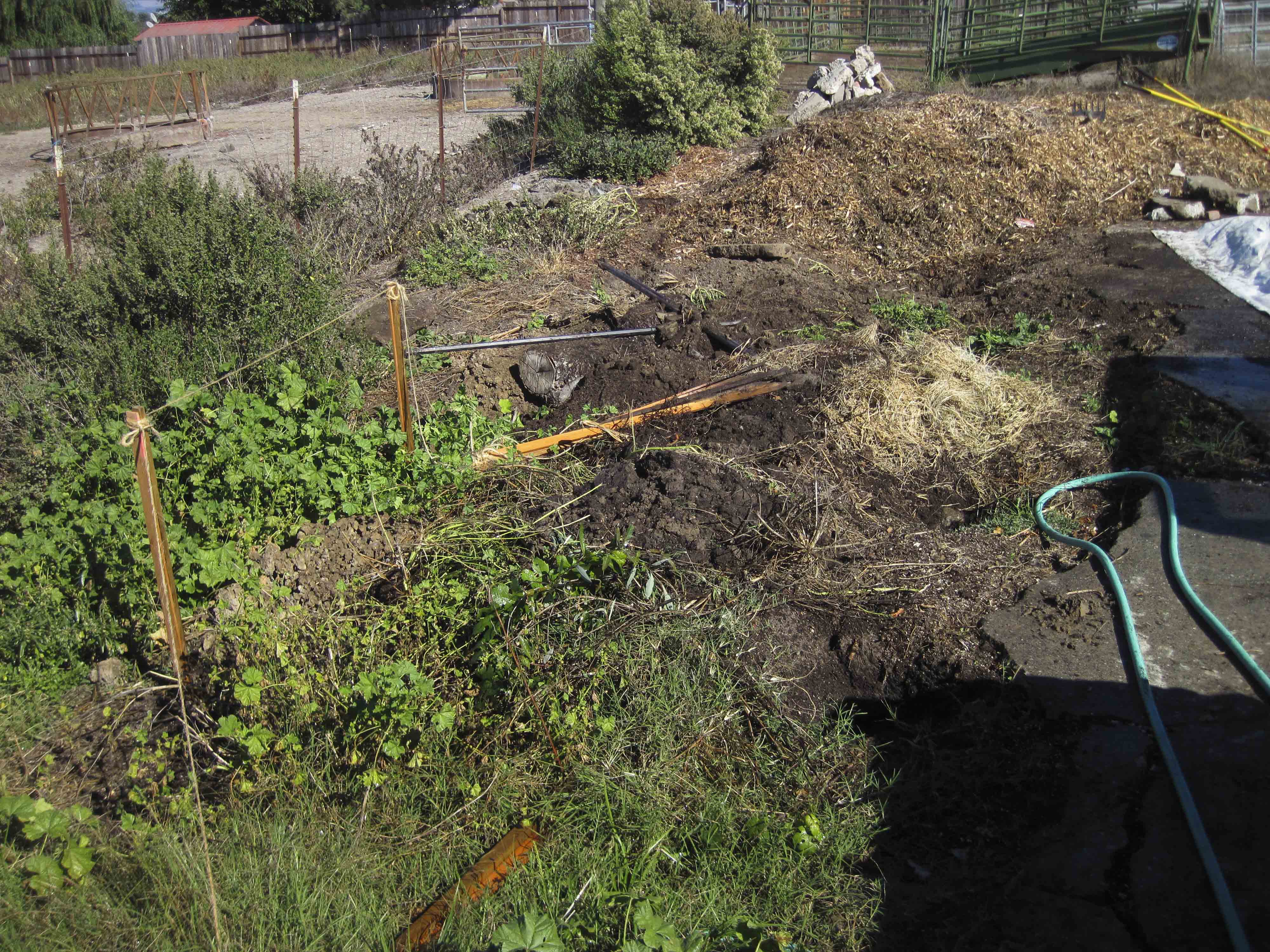 Compost Cricket Corral – The Before. This is installation day, leaving off from September's prep of the site. The stakes, as discussed in last month's article, show the location of the 8 posts to be installed. Six postholes have been partially dug.  The 8 posts will create 3 compost bin areas, each roughly 6 feet X 6 feet.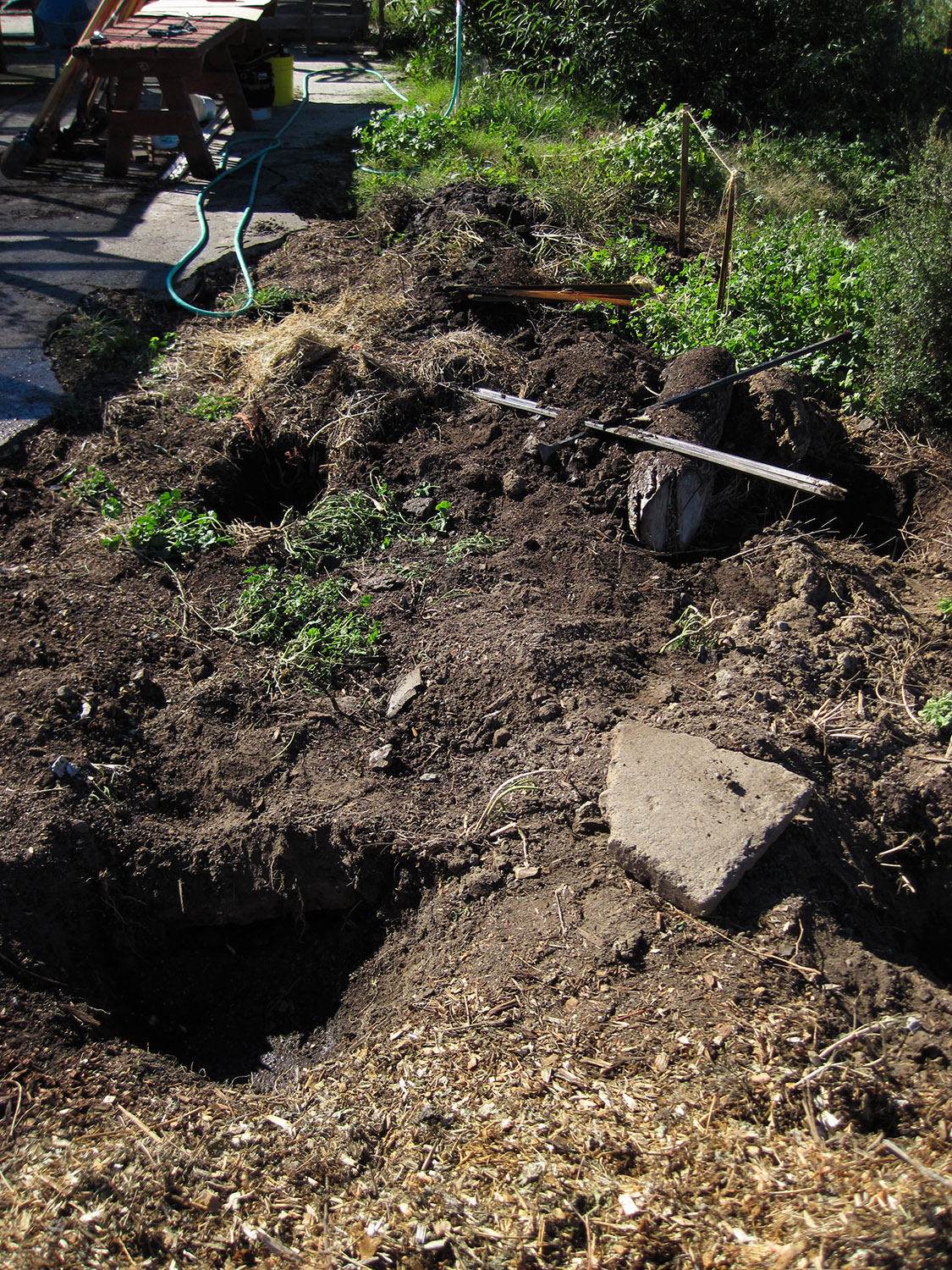 Some prep before the students arrive today. The 8 post holes are started and filled with water to make digging deeper in the adobe clay soil easier. Large concrete chucks were found under the soil; they will be used later in the project.  True, the blocks were very hard to extract from the soil but they will come in handy to support the posts upright.  As is said in Permaculture, "The problem is the solution."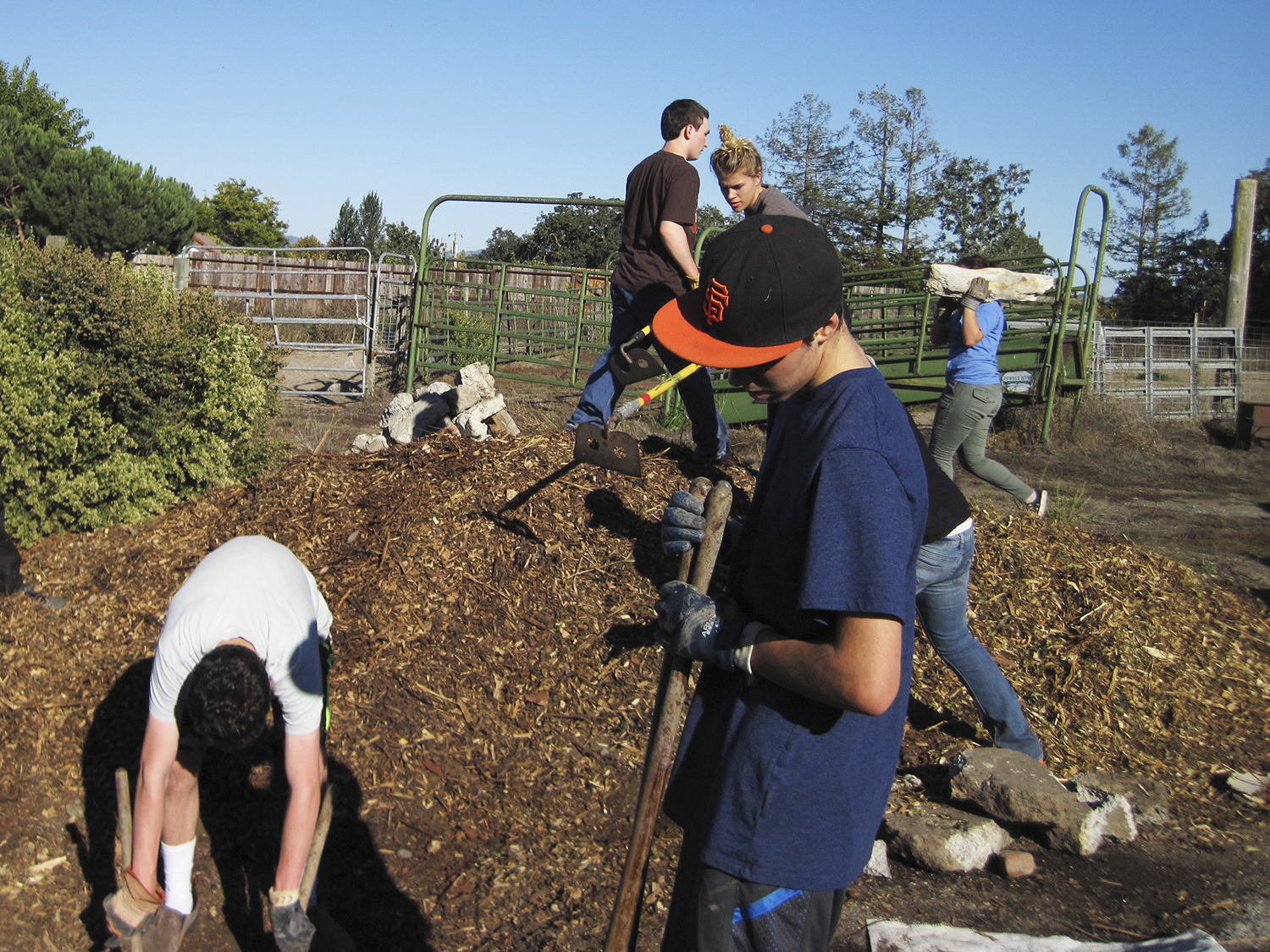 The students are here! Biology students from Orchard View School, in Sebastopol, will be installing Compost Cricket Corral. Lots of posthole digging! Old wood to be gathered and a wood chip pile to be shifted over a few feet.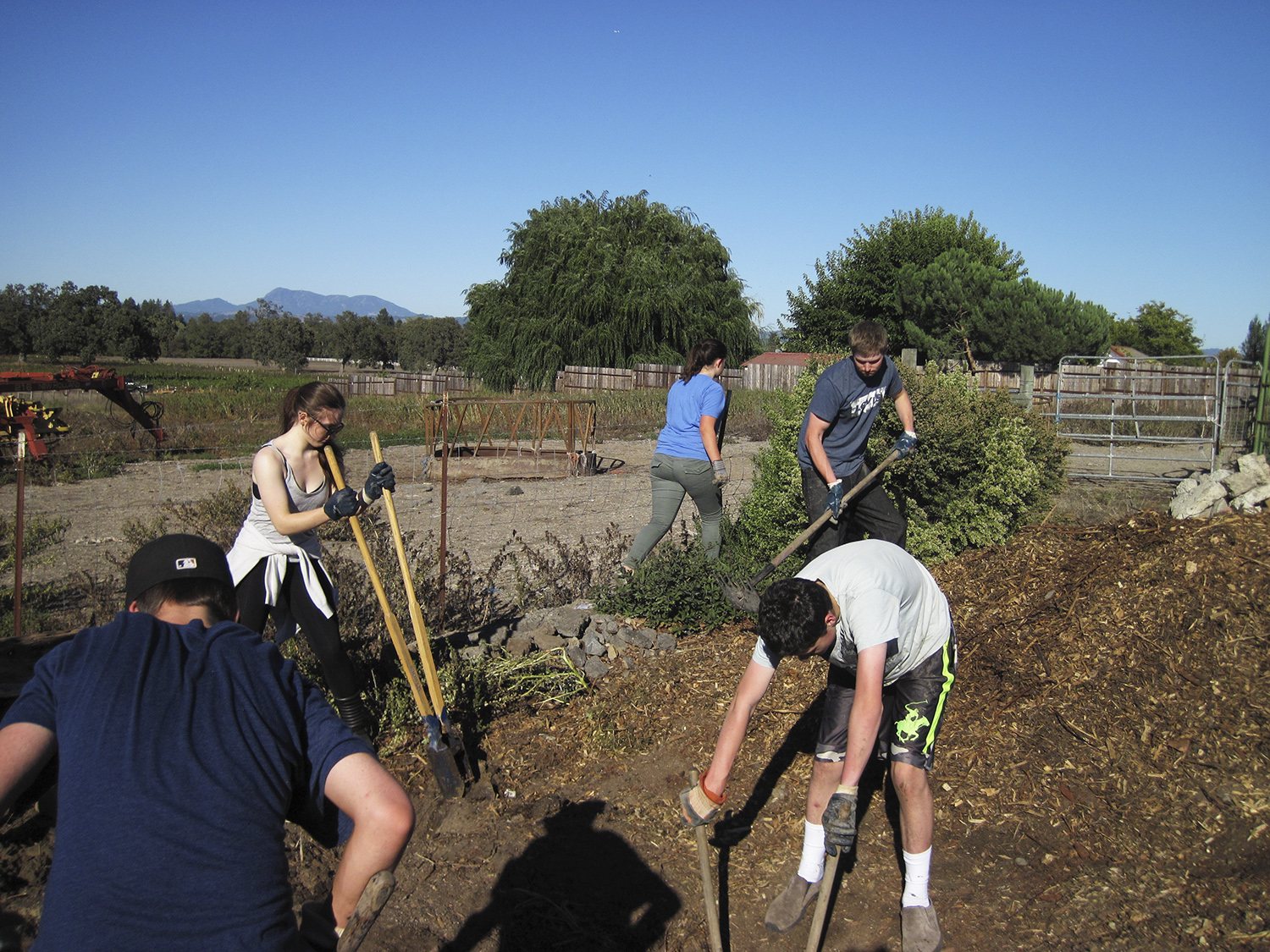 Digging, digging, digging.  Outdoor classrooms include fresh air, sometimes exercise like this one, and kinesthetic learning, or otherwise known as, tactile learning.  Doing is learning!  Note the large wood chip pile (right foreground).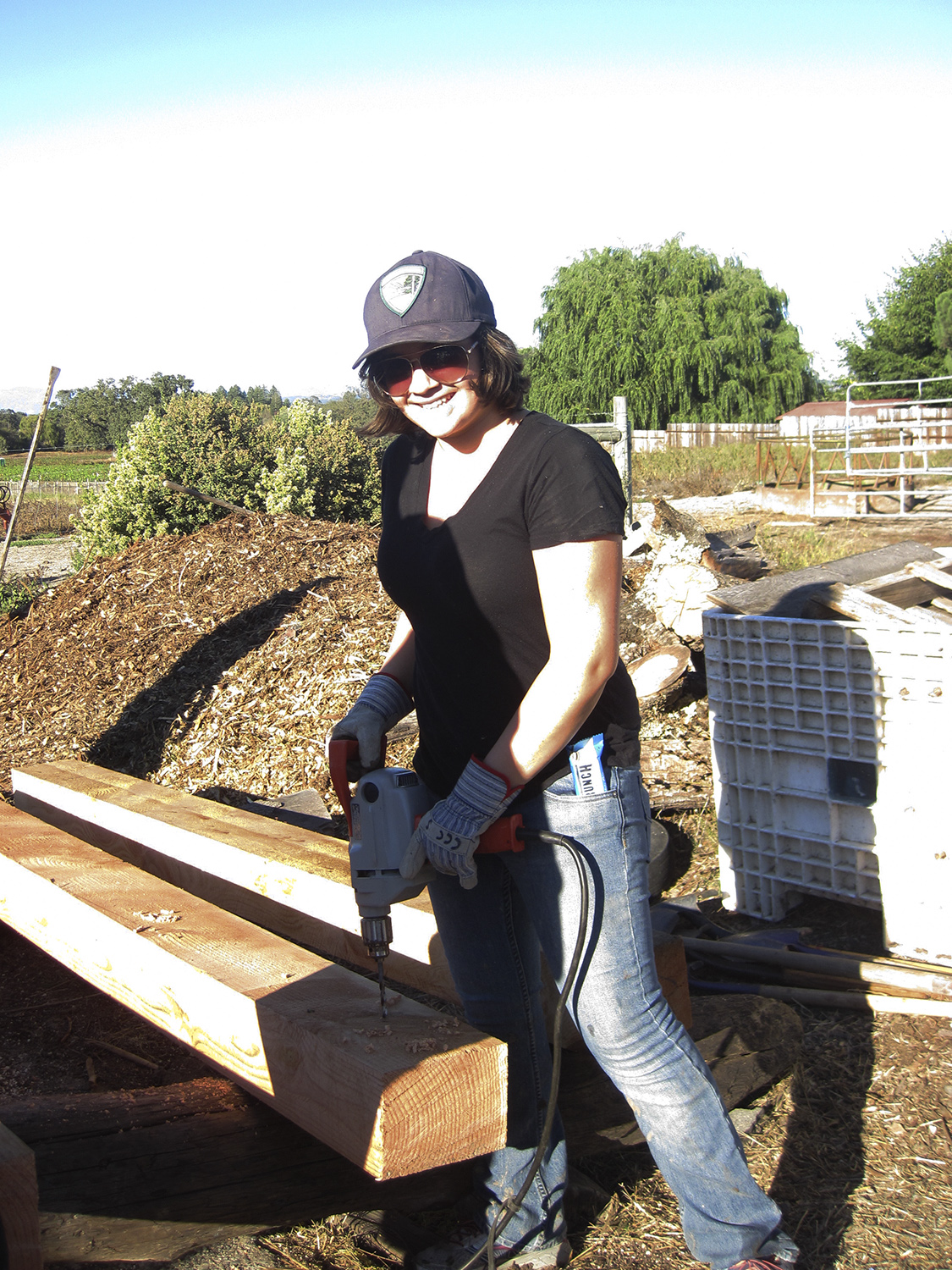 5/16" holes are drilled 3″ deep into the top of the posts to encourage insects to habitat in them.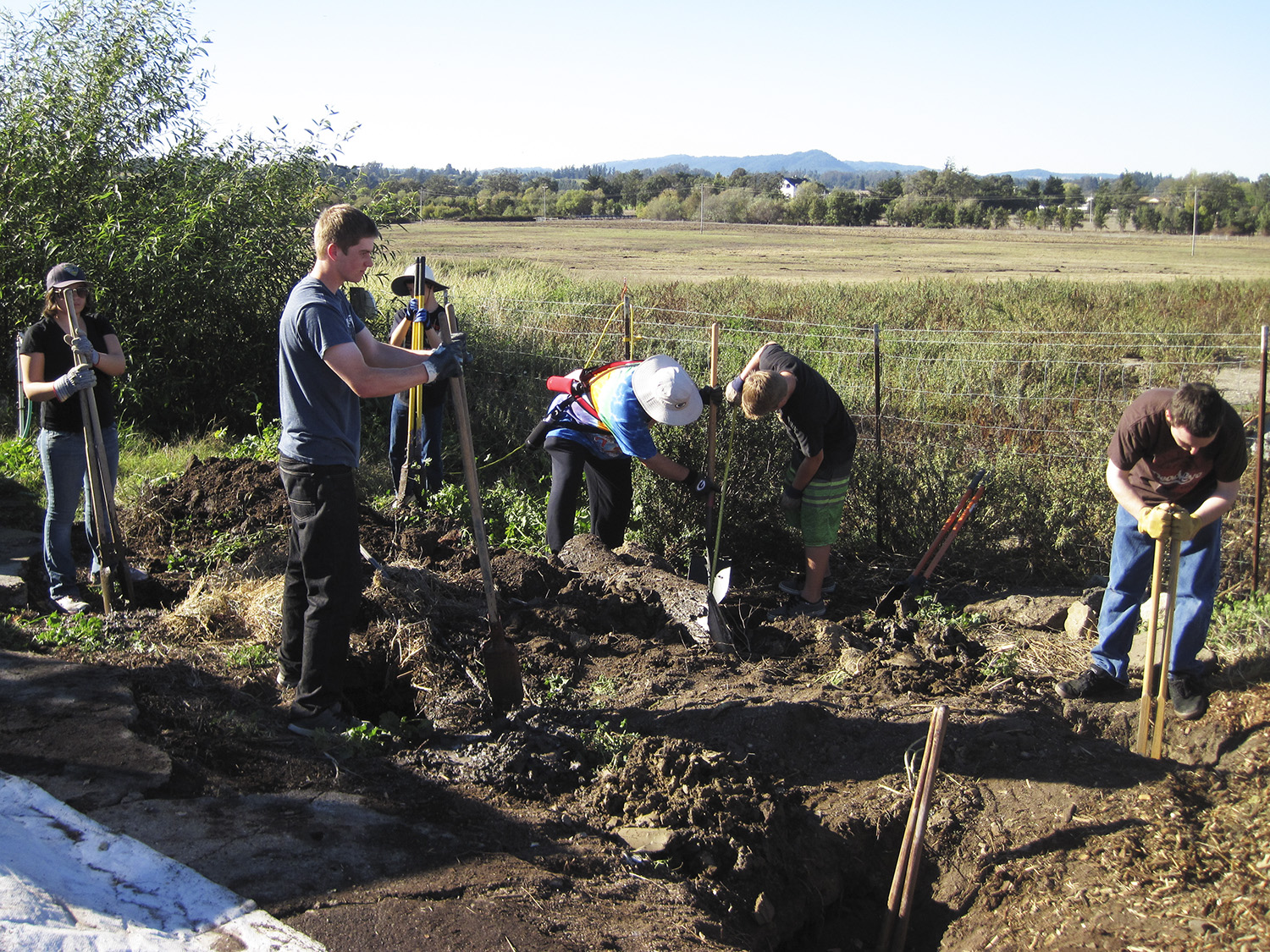 Measuring holes to get 3 plus feet deep.   The deep holes will better support the posts without having to pour new/fresh concrete at their bases.  Also, the overkill deep, untreated fir wood posts will hold life-sustaining water for the habitat's soil microbes, larger critters, and fungi/plant growth.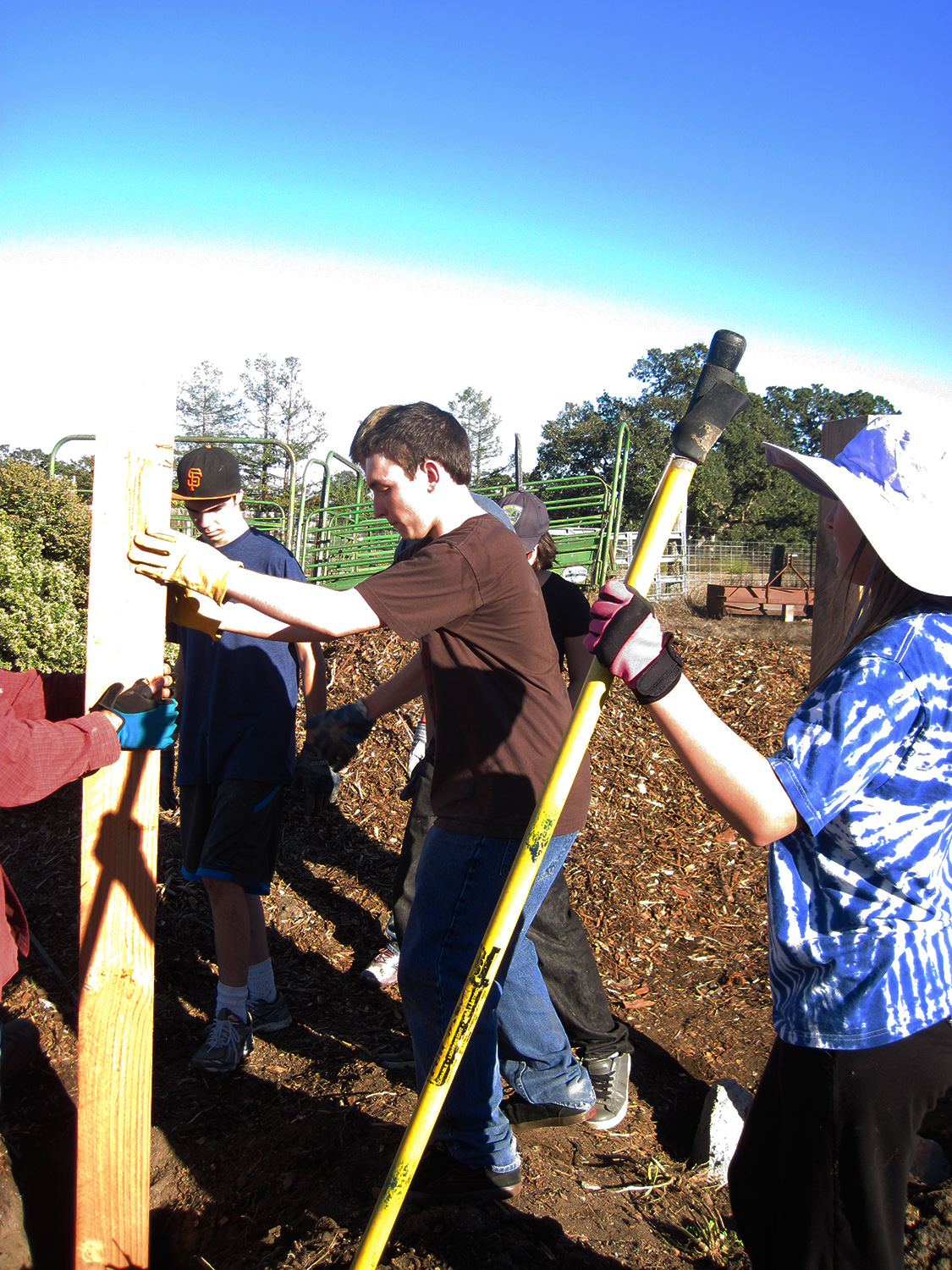 A post is placed in its hole, then leveled vertically. Concrete chucks are used to hold the posts in place and to create shelter cavities for wildlife.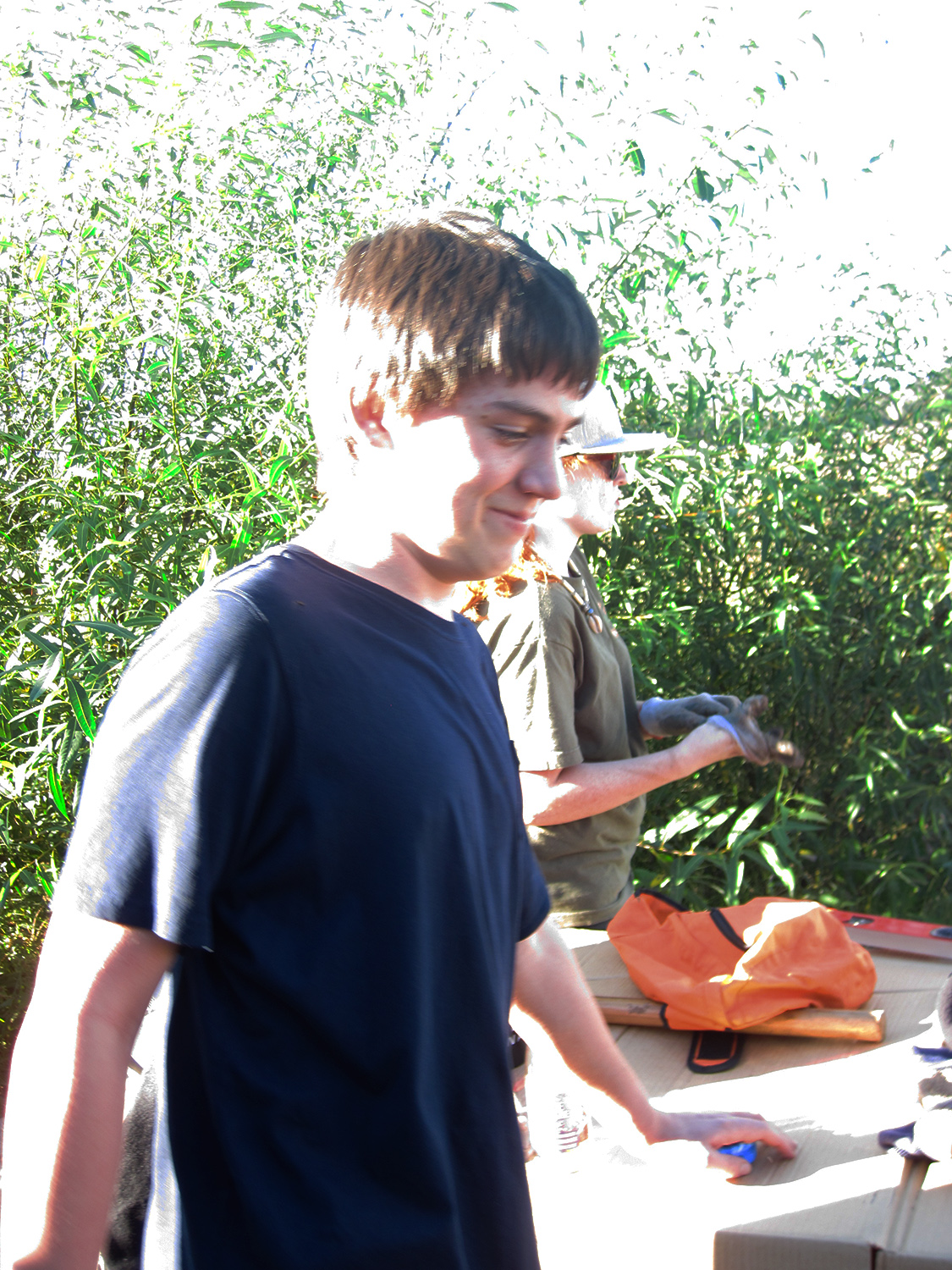 Habitat installation at the Laguna Foundation might be hard work but it sure beats being in the classroom. Outdoor classrooms rock!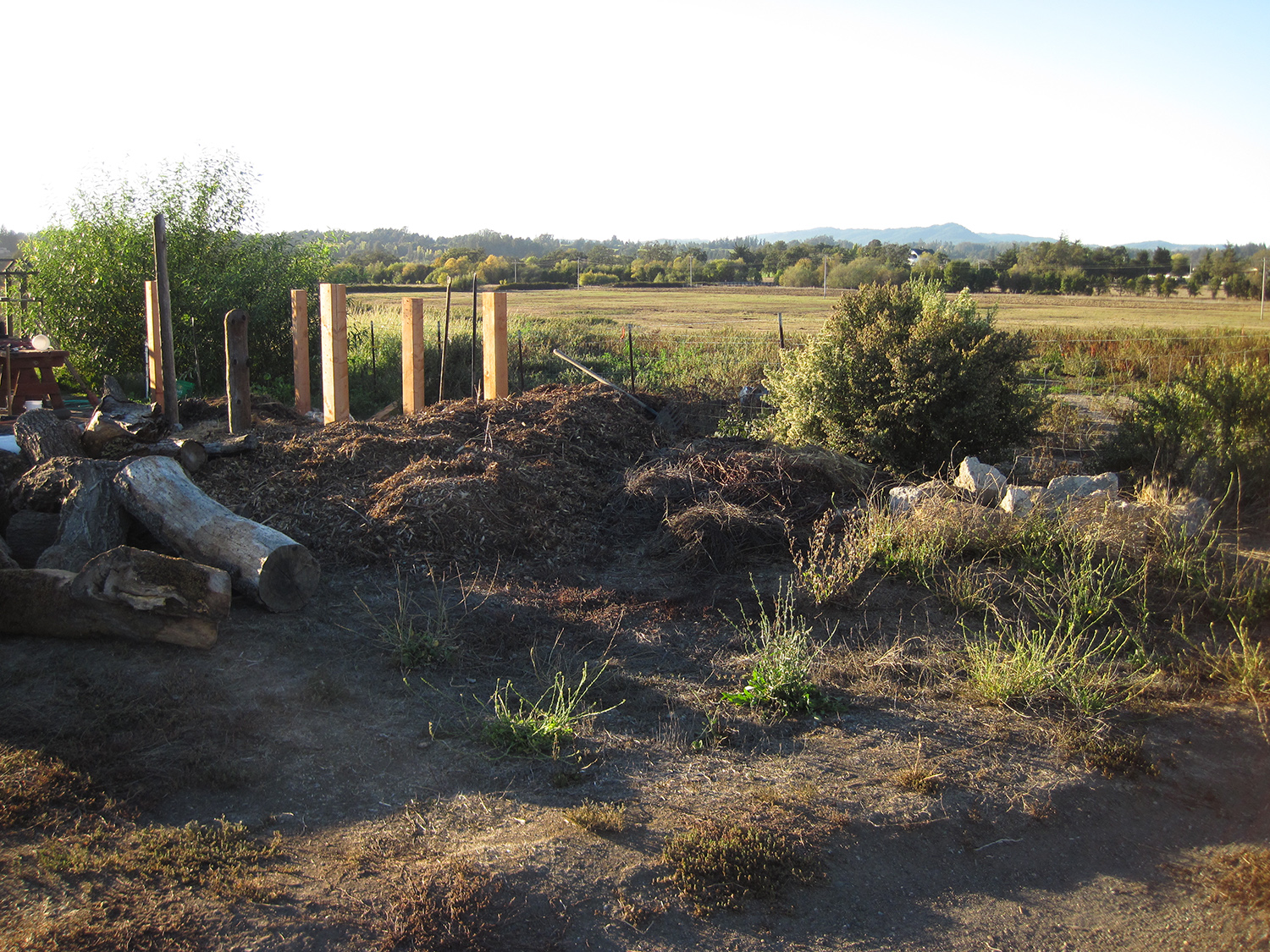 The Biology students from Orchard View School (Sebastopol, California; teacher: Sunny Galbraith) have installed Compost Cricket Corral's 8 vertical posts AND have fled. What great work they did! Local materials, especially those that others consider "junk", will become this wildlife habitat's treasures.
The compost bins now have defined areas – making compost will now be more efficient for the Laguna Environmental Center at Stone Farm.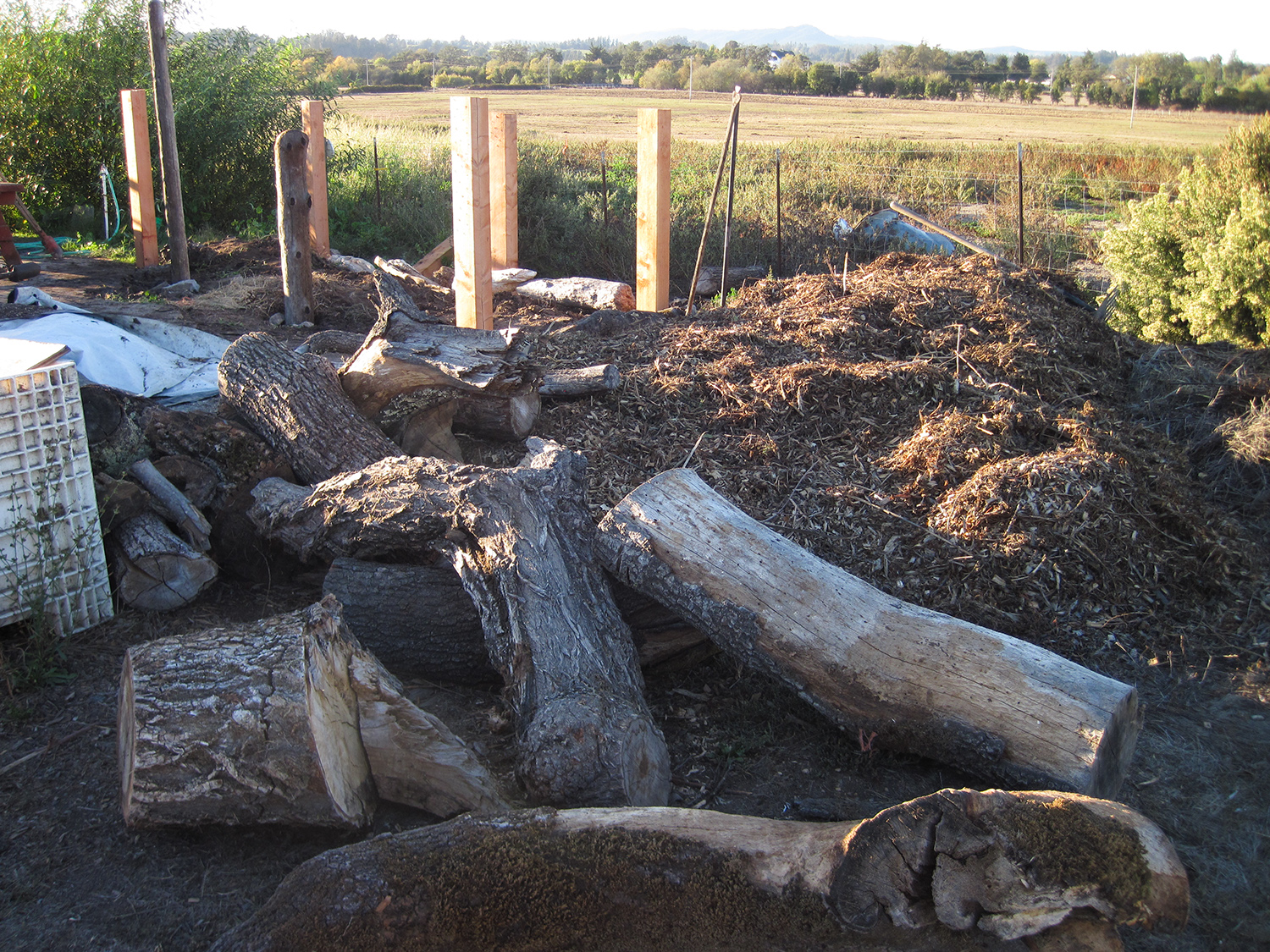 NW view. Student-carried oak logs await insertion into Compost Cricket Corral.
Class is over; Tony stays on to finish the habitat installation. Students gathered these oak logs from the farm to be used in the habitat installation. The logs are used to edge the back of the compost corrals and to create a wood pile next to one end bin. That log pile will house gastropods (snails and slugs), insects, other crawly critters, lizards, snakes, and other animals. The purpose of this habitat installation is to maximize the compost area – the animals sheltering nearby will visit the compost and add to its richness. Rich biodiversity at the compost will create better soil, faster.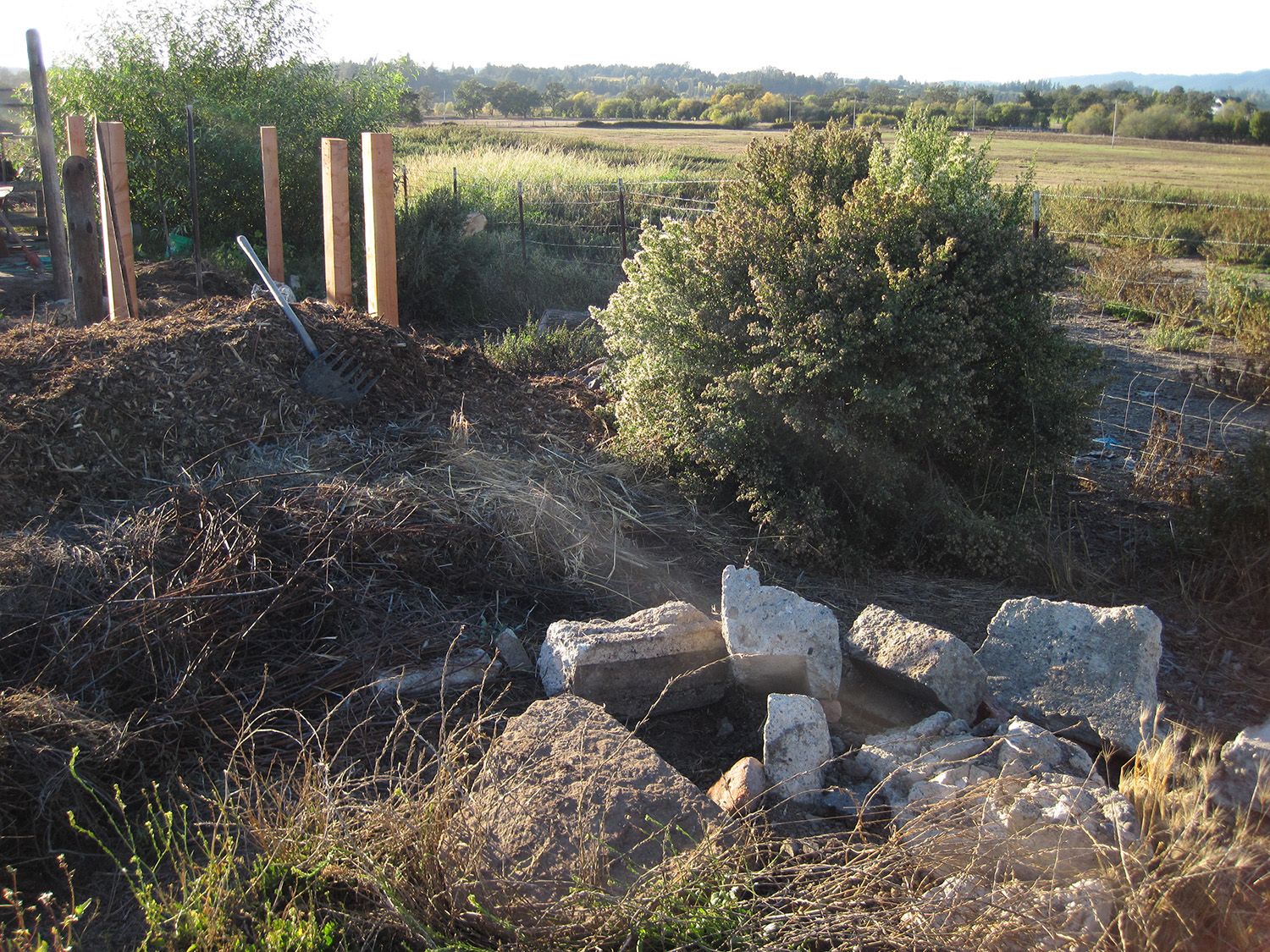 W view. Half of this refuse concrete blocks pile was used to support Compost Cricket Corral's posts. The blocks were snuggled up against all sides of each post, in the gaps of the posthole.  No new concrete was poured/made for this installation.
Stacking functions (Permaculture) – let's clean this place up, raise the level of the compost, AND create habitat. Old concrete chunks are used to bolster the back edge of the compost. A raised floor to the compost pile will help it drain better, preventing an anaerobic condition (no oxygen to support decomposition) in the rainy winter months.  Besides holding logs in place, the concrete chunks also create cavities for critters.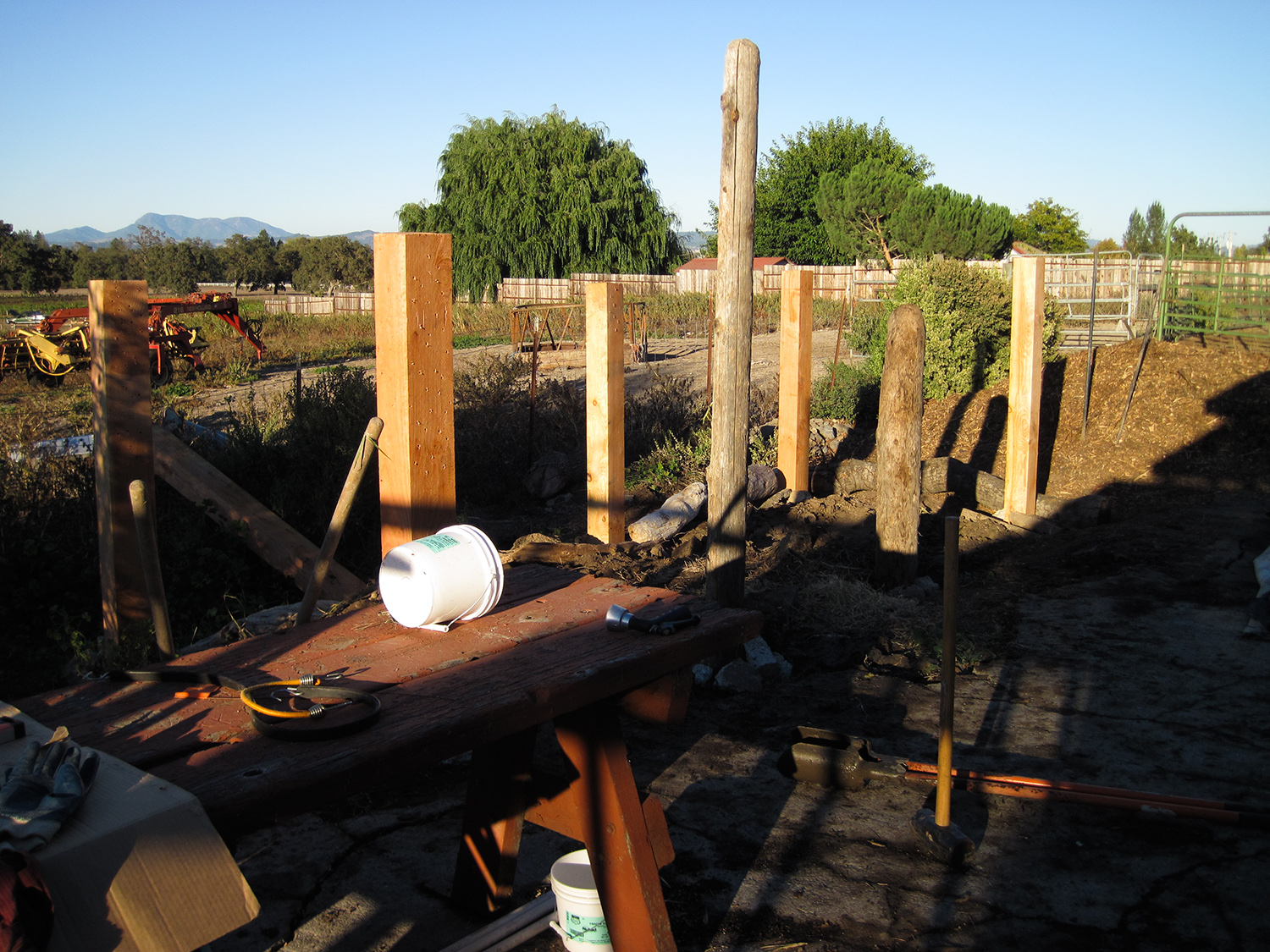 The sun is setting on this project. Posts are in, the soil base is leveled, and the log pile has been started (far end).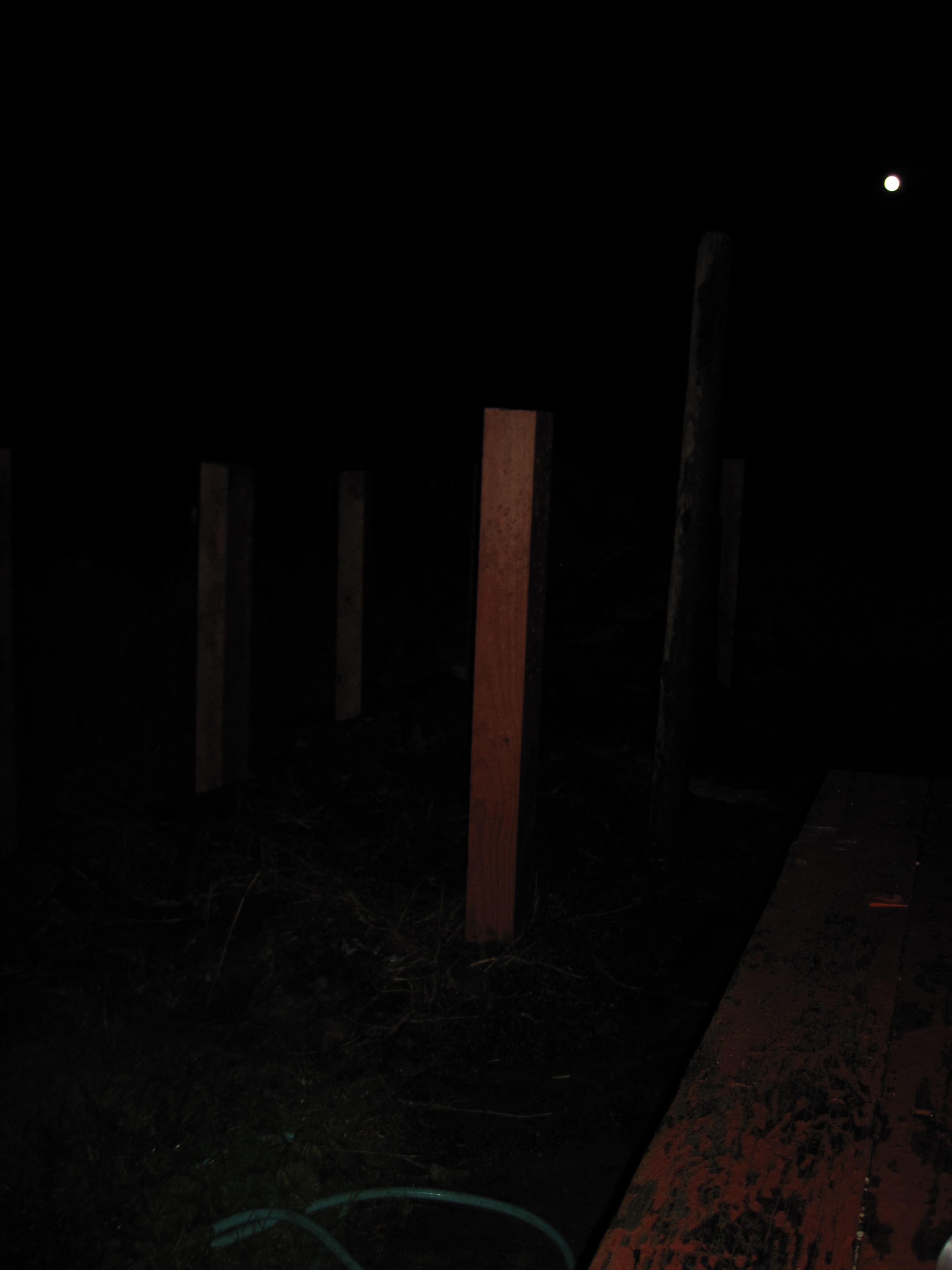 Time to call it a night. I finalized the project under a rising full moon. Excited to see the finished result in the morning!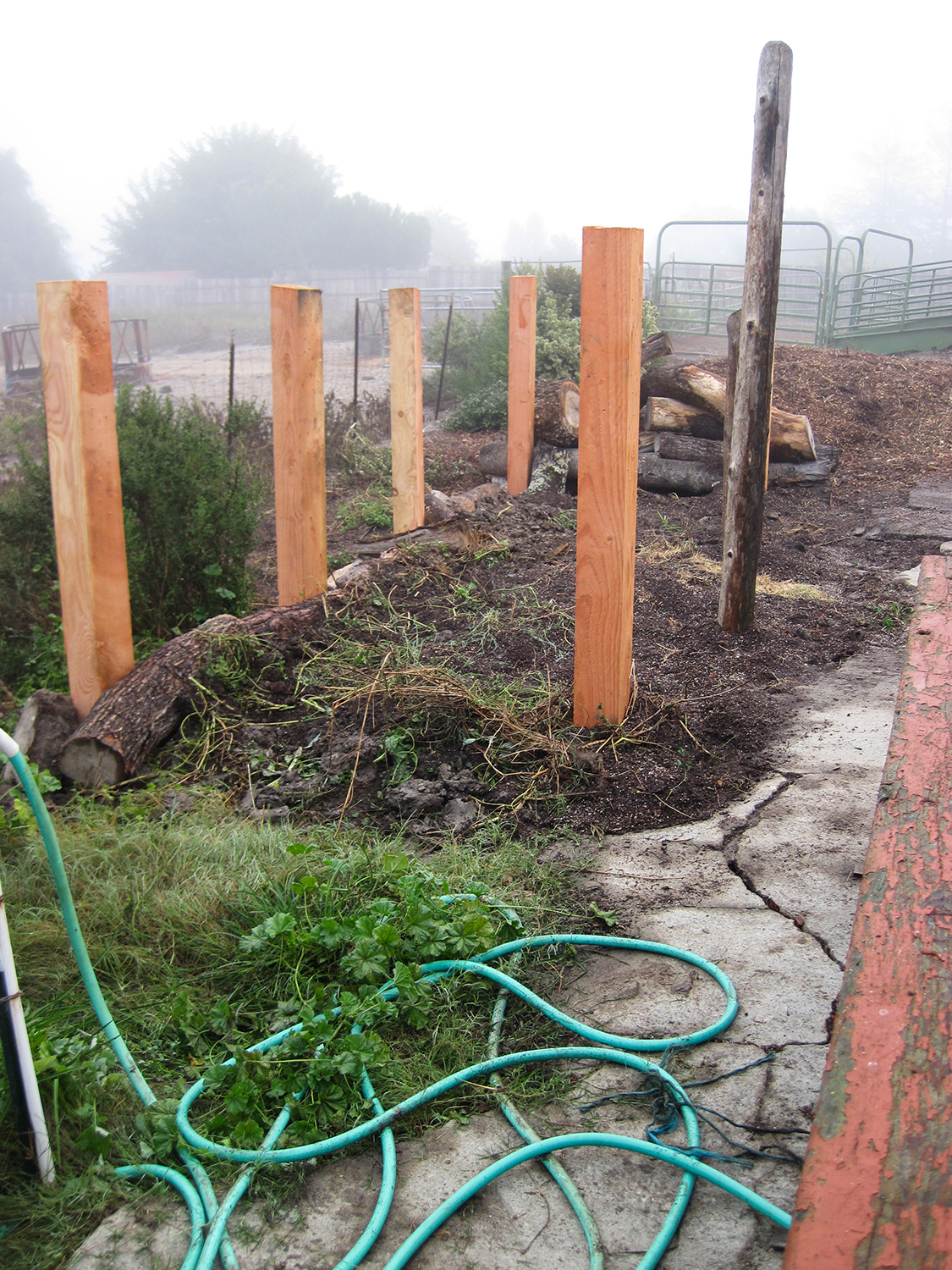 NE view. Compost Cricket Corral (CCC) was completed last night and given a good sprinkle of water before being to put sleep by the chill night, enjoying its warm Northern California October night, till the warm fog rolled in this morning.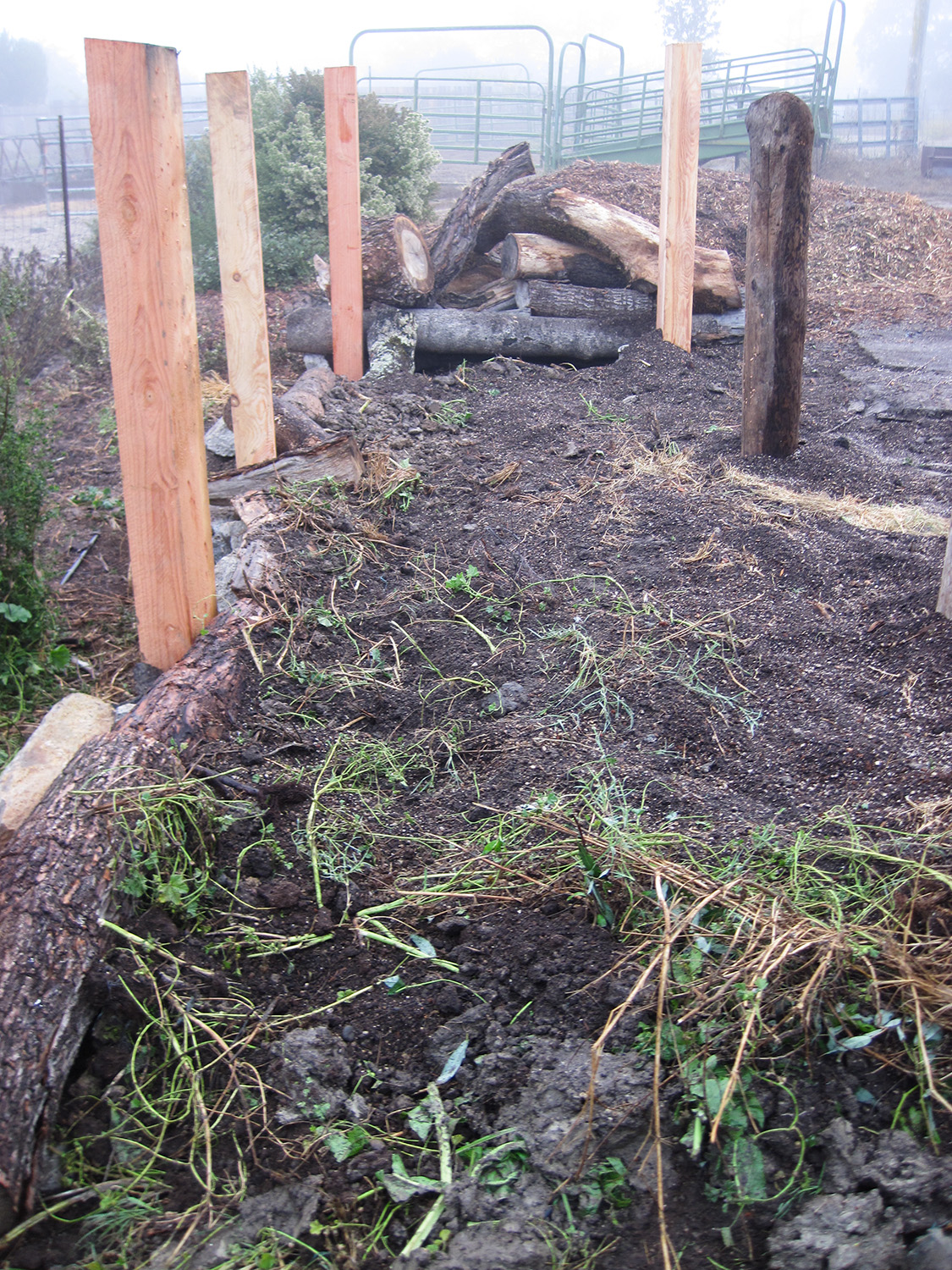 E view.  The next morning.  Finished and looking good! Ready to make compost and invite the growing neighborhood of critters.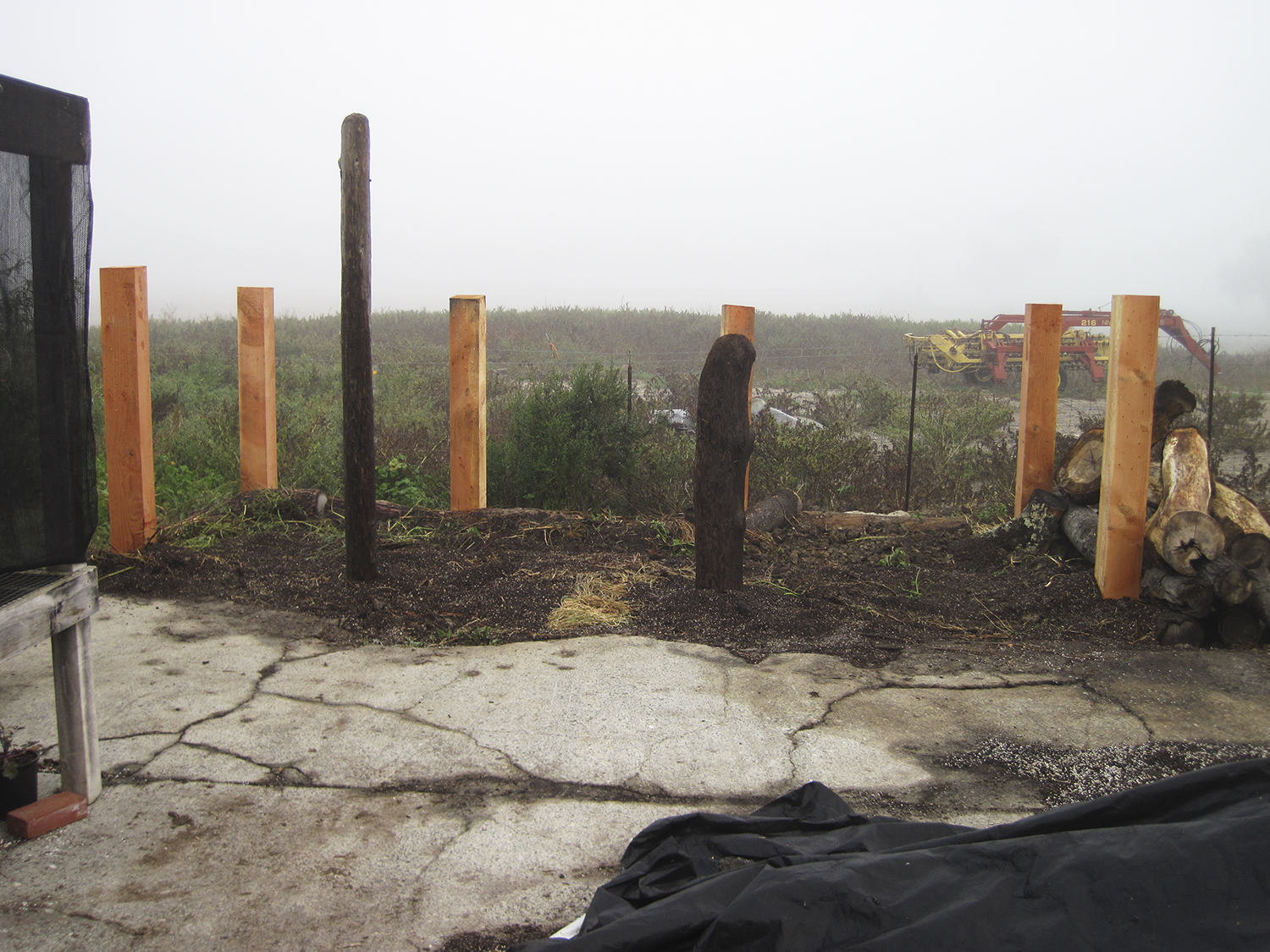 N view.  3 compost pile bins, each roughly 6 feet X 6 feet.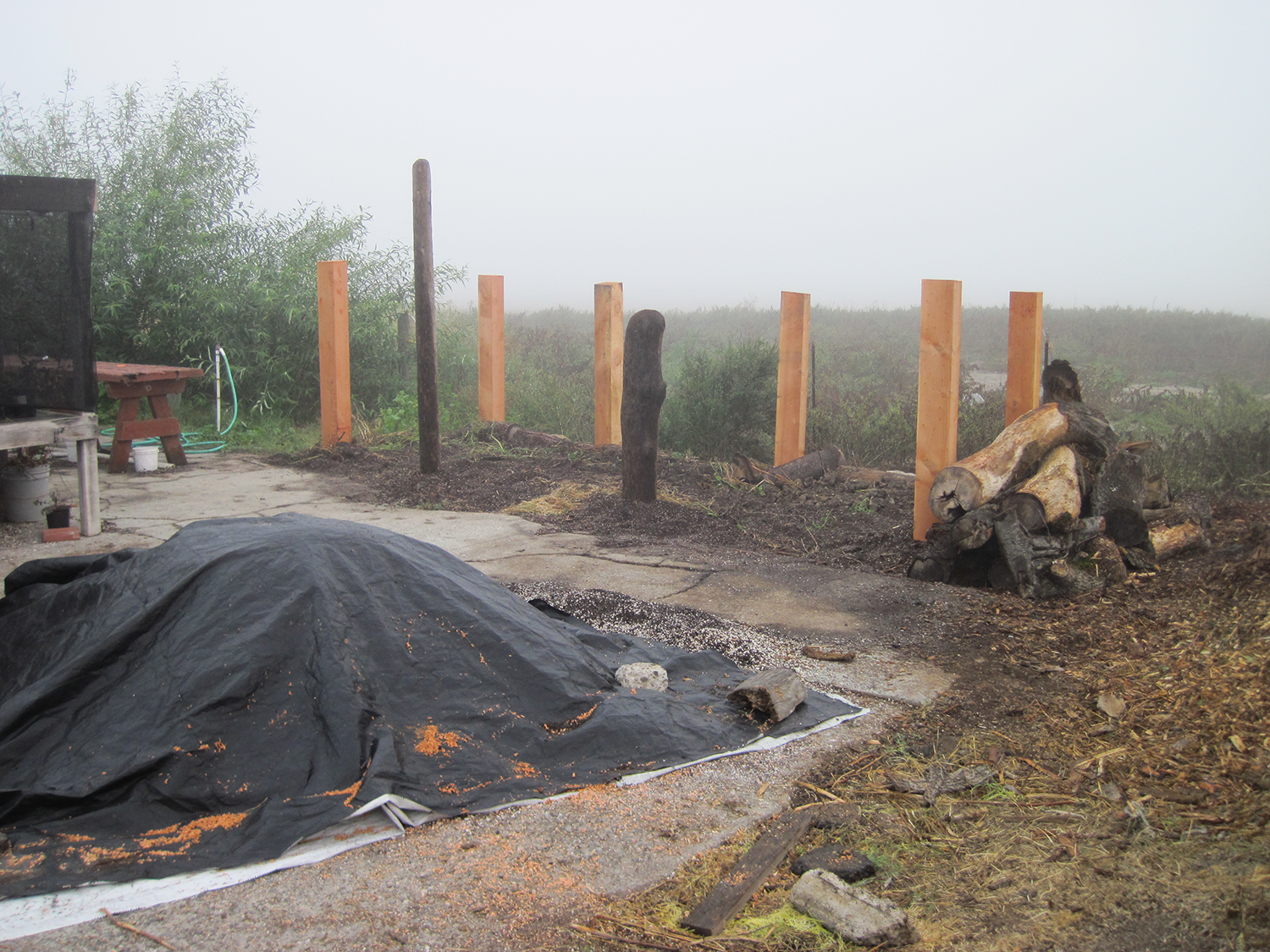 NW view. Note the sawdust from drilling insect holes on the tarp in the foreground.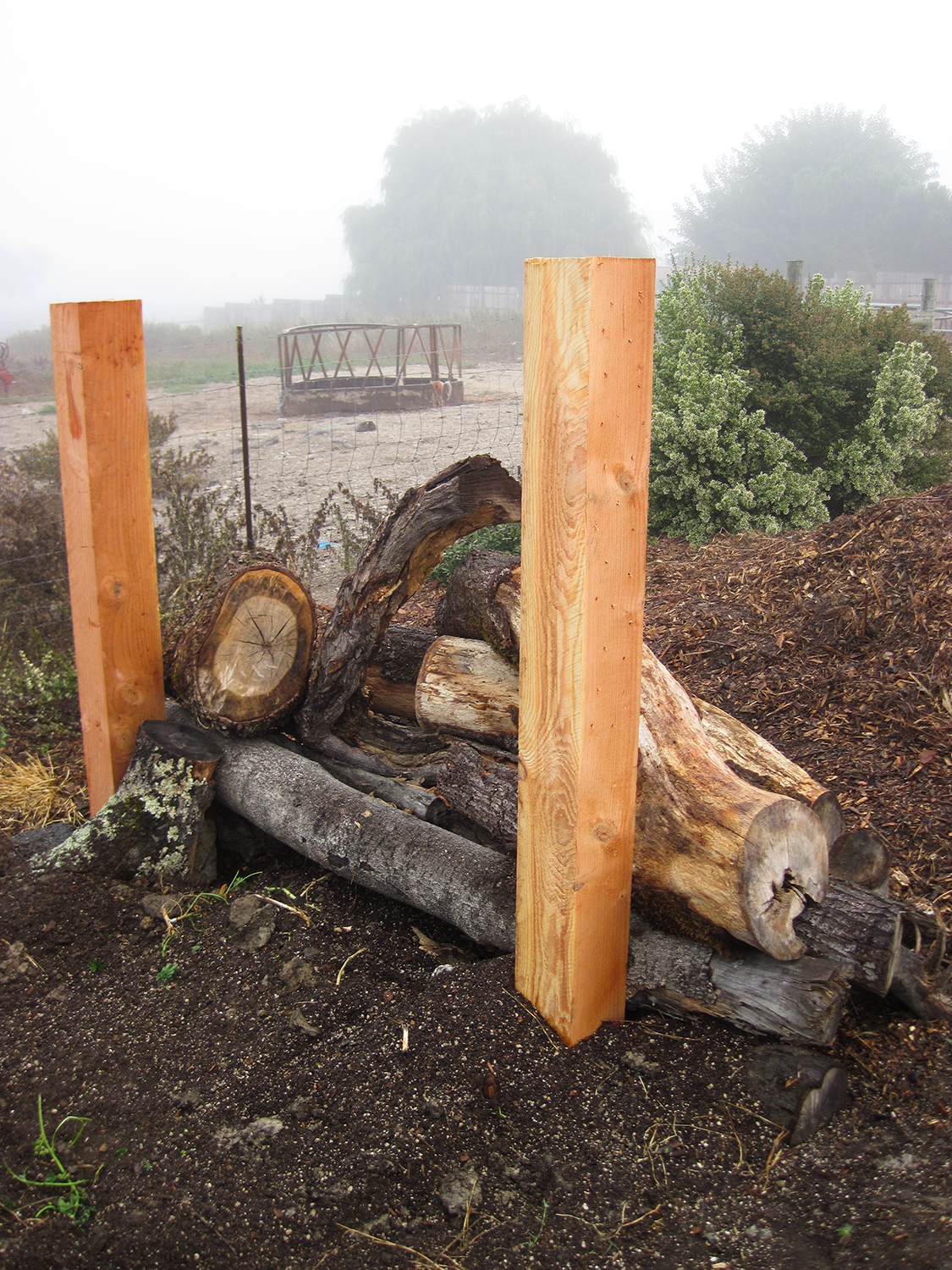 NE view. The log pile, Log Pile Apartments, will house many critters.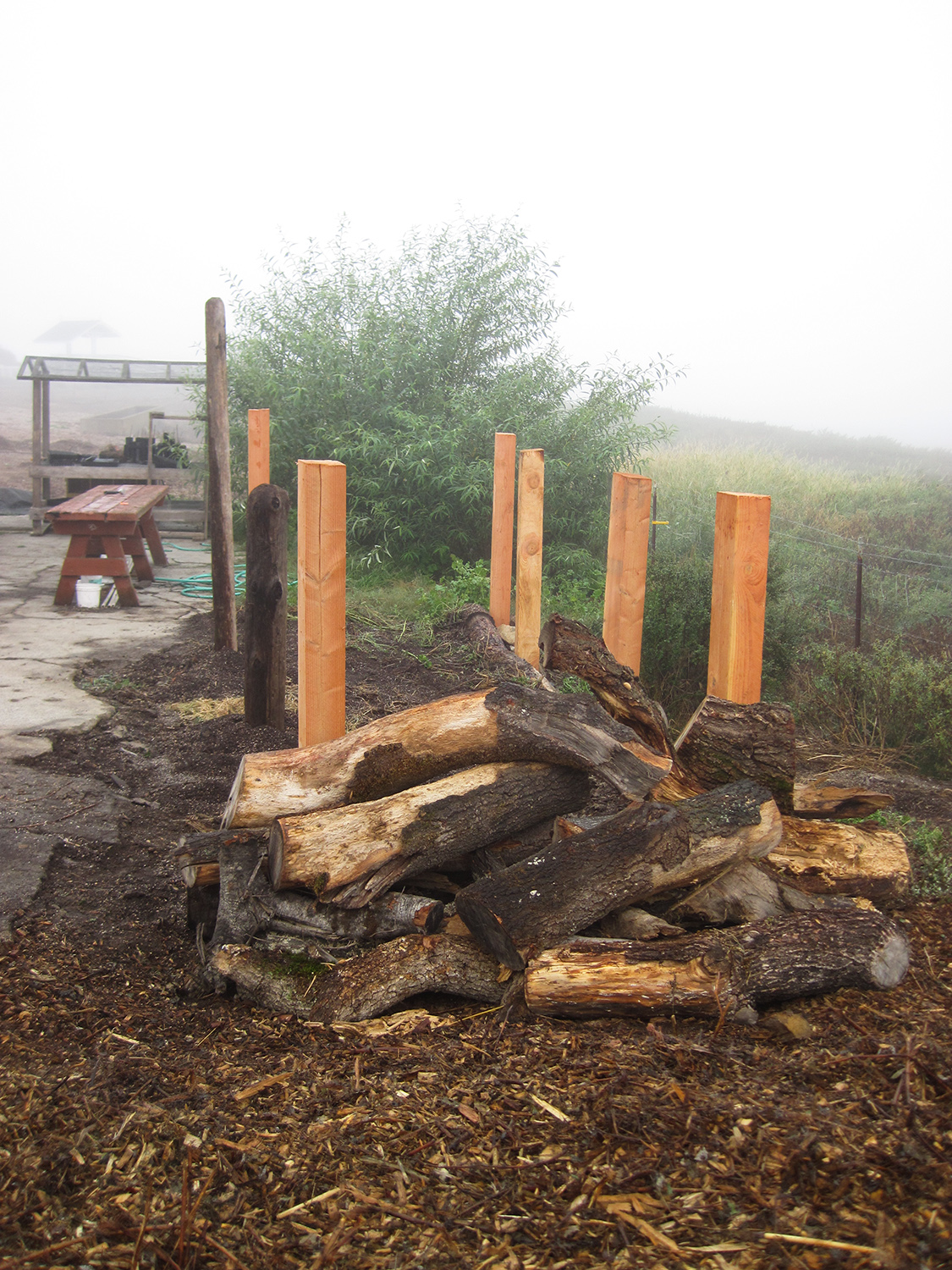 West view. Critters will travel between the compost, log pile, wood chip pile, and surrounding fenceline.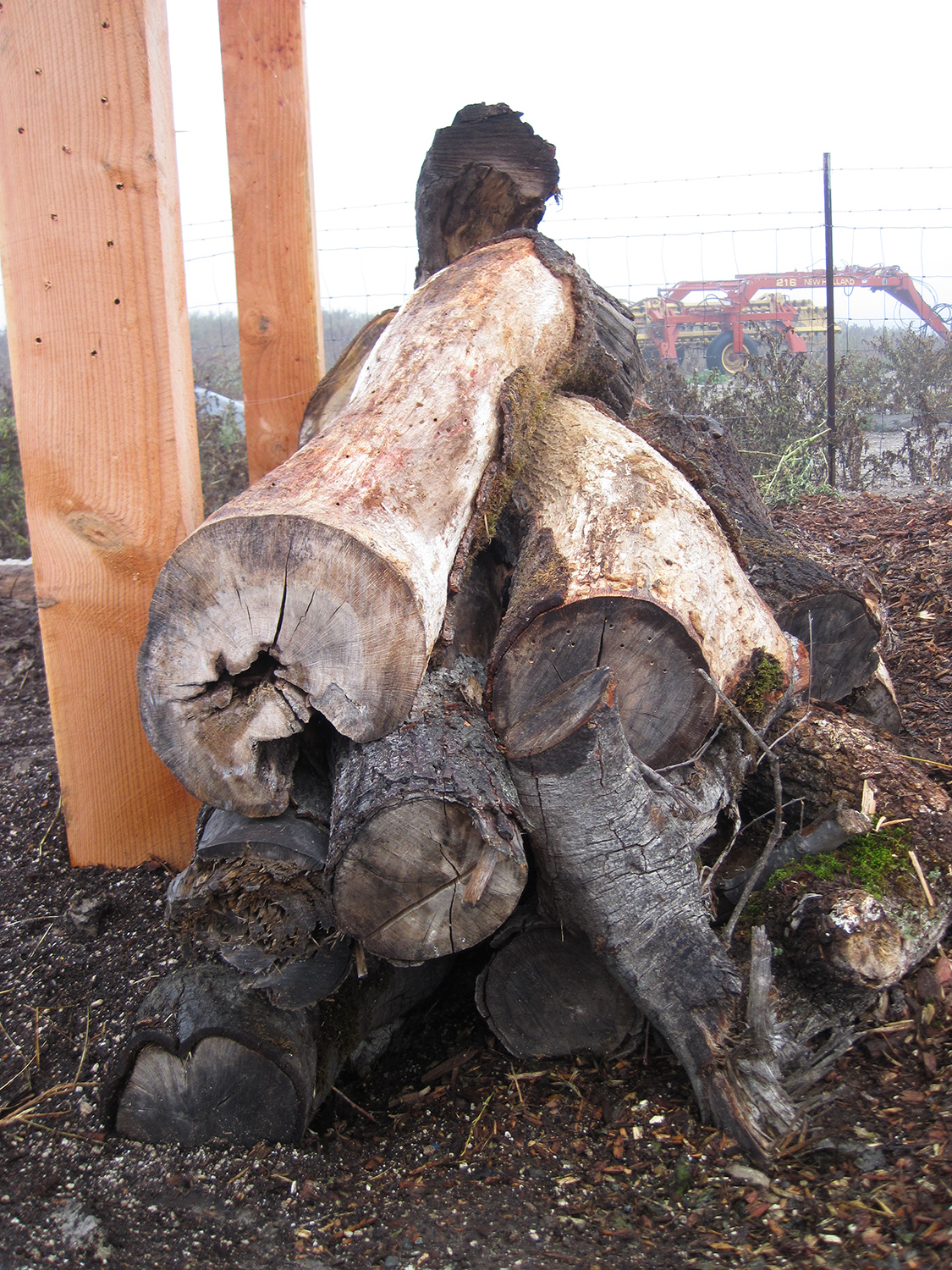 Vacancy at Log Pile Apartments.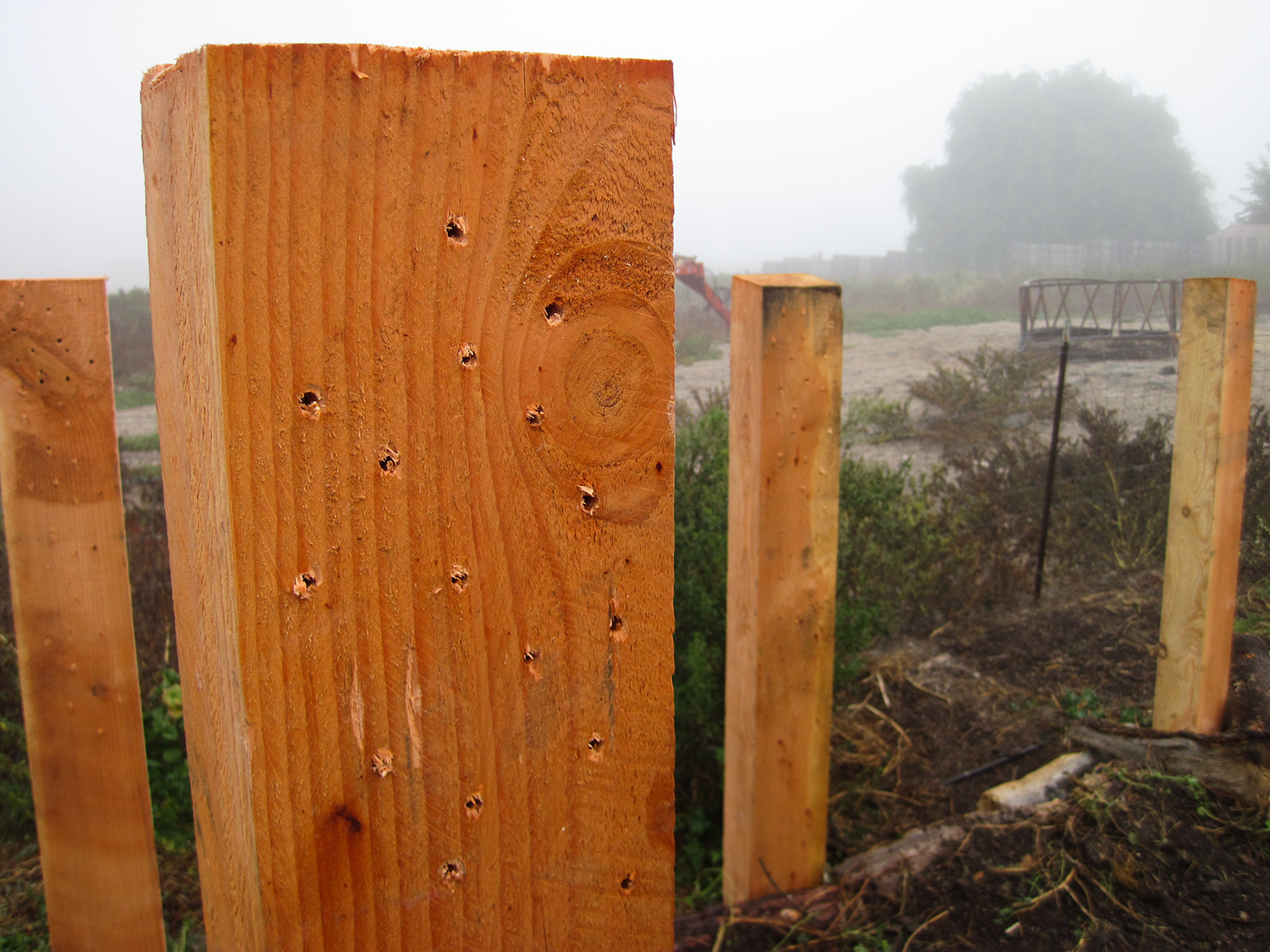 5/16" holes drilled into posts to encourage insects to live in the wood. These fir posts will invite insects and fungi to thrive in Compost Cricket Corral. Fir wood (#3 rough) was specifically chosen because of its vulnerability to Nature.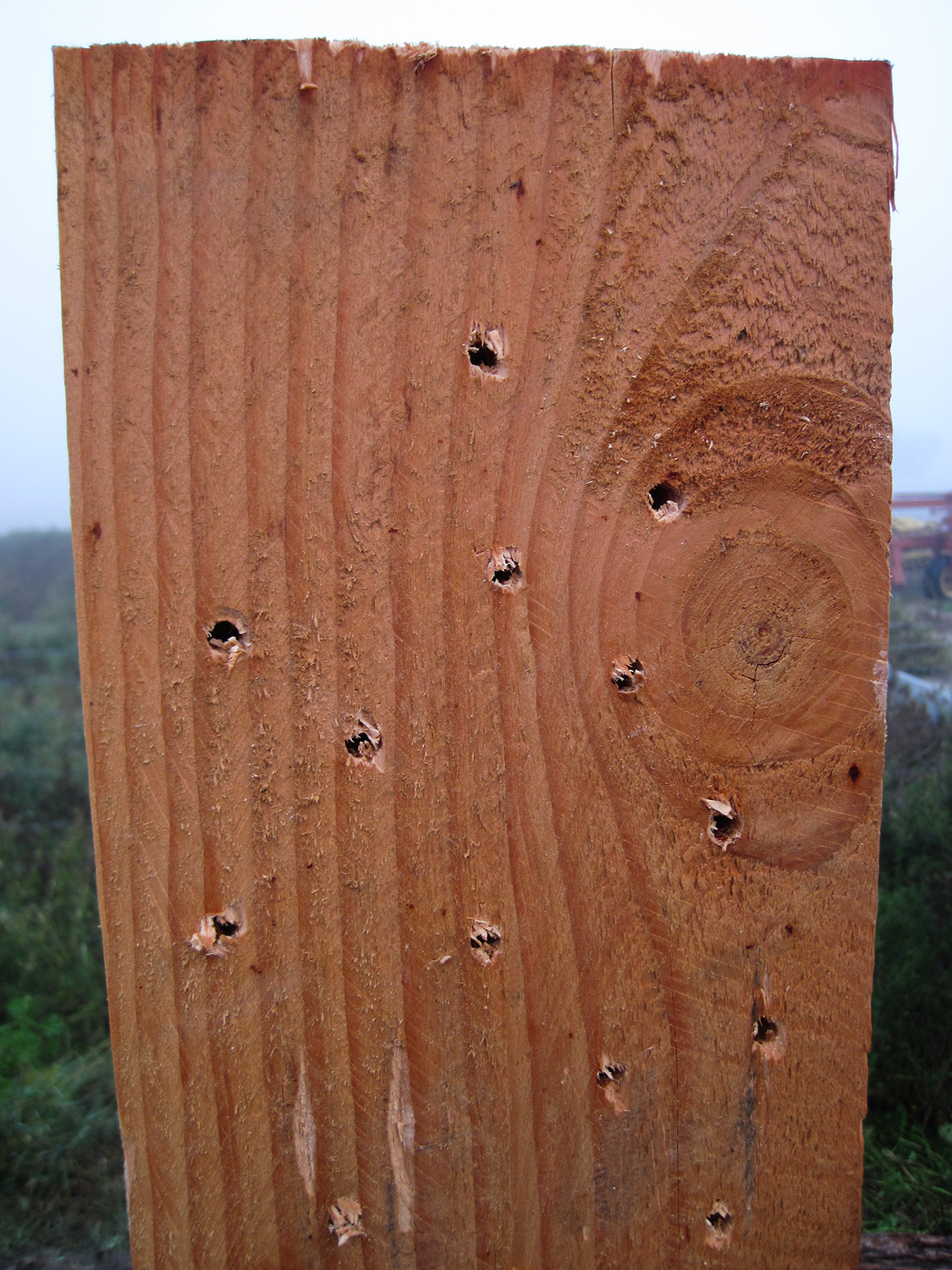 Close-up of post insect holes.
Other Photos of Habitat-Friendly Features of Compost Cricket Corral: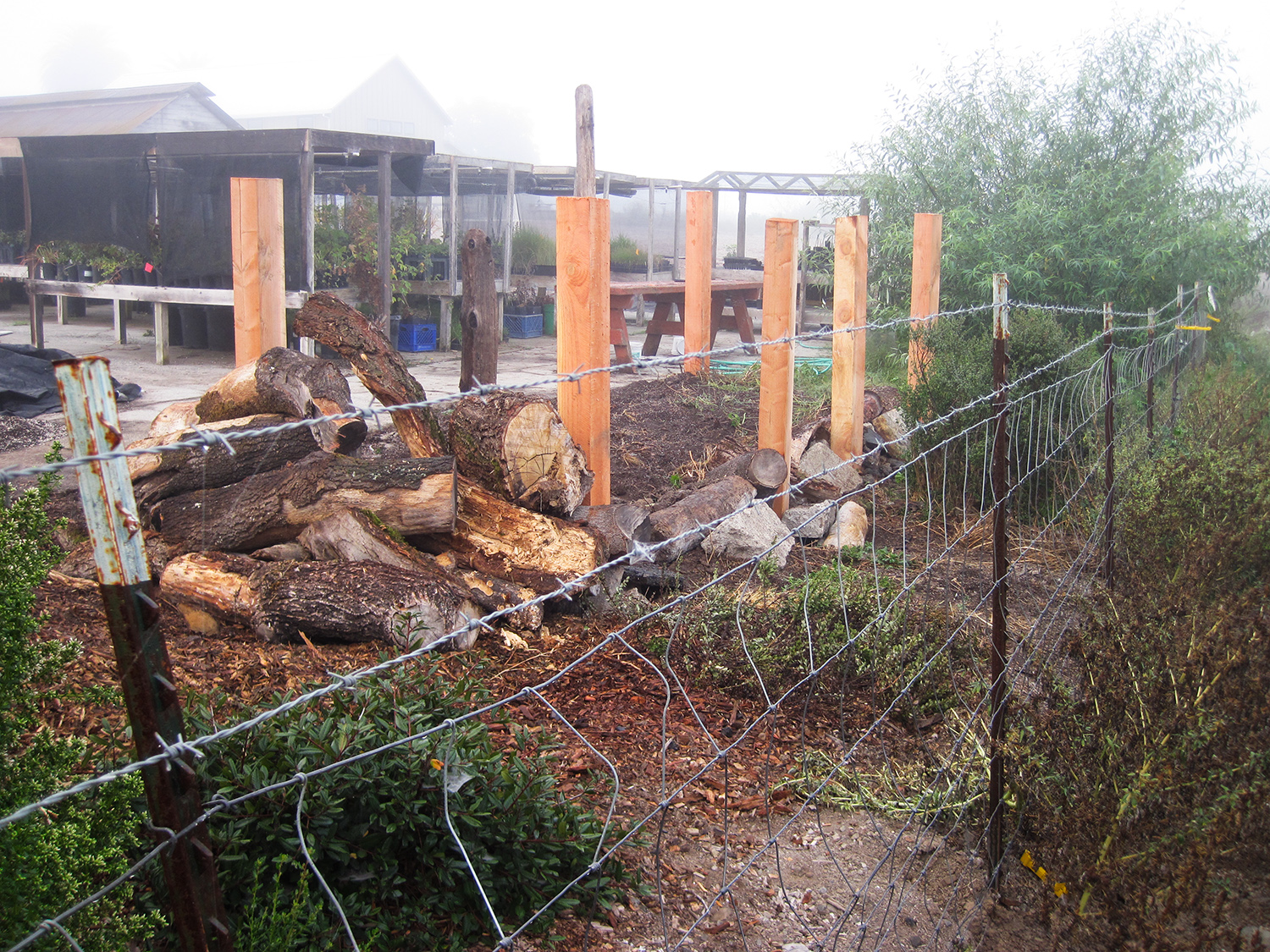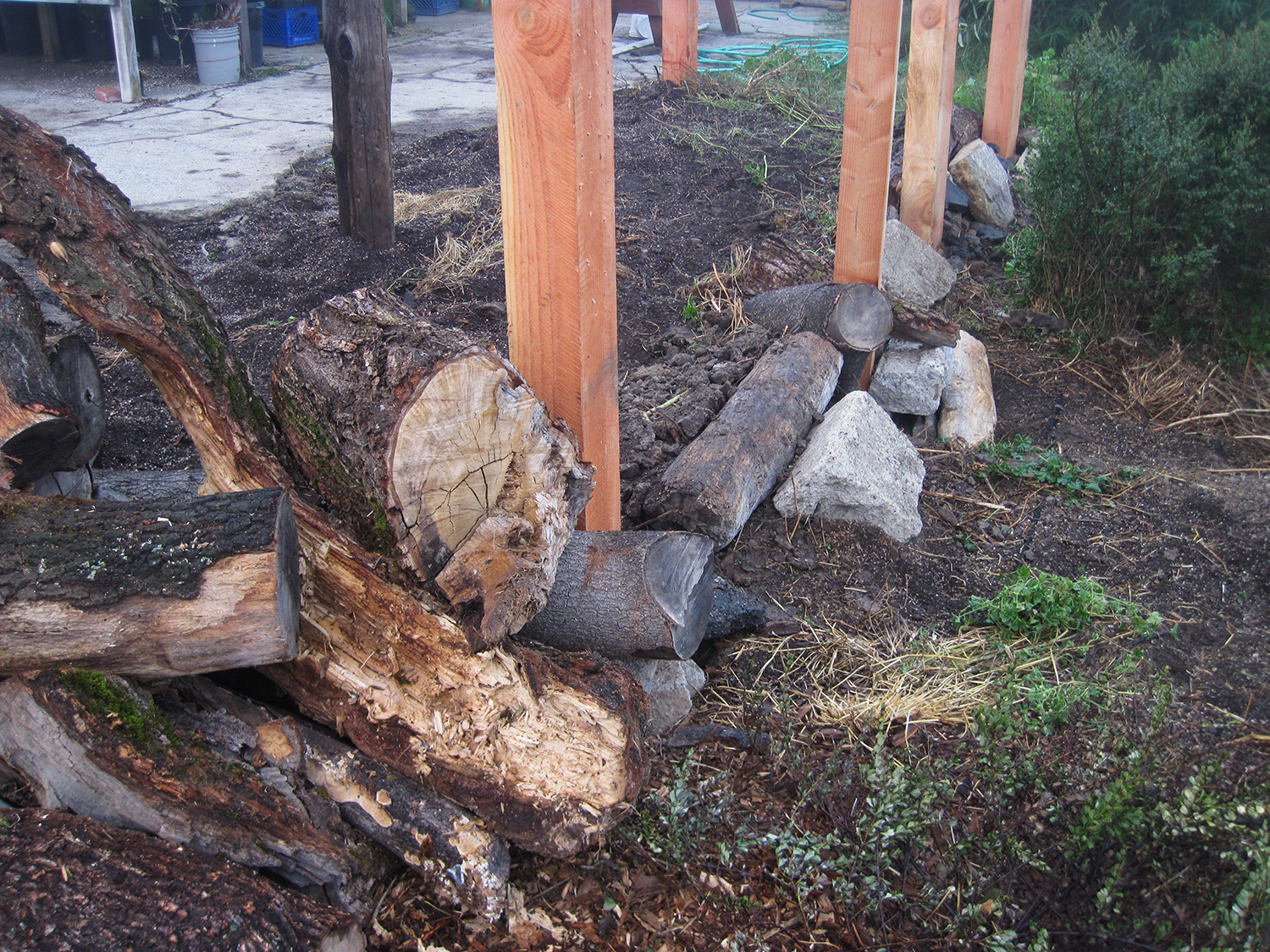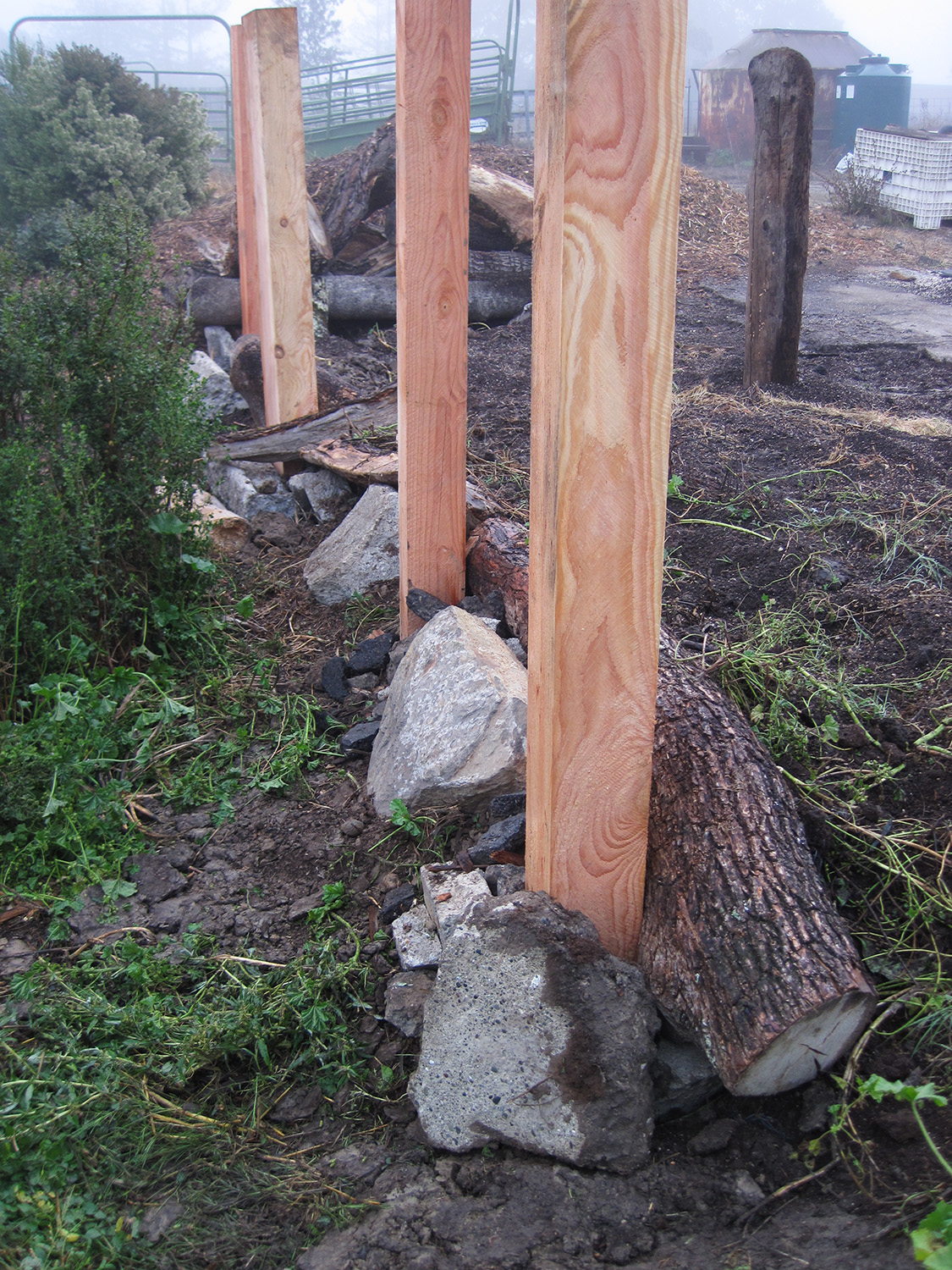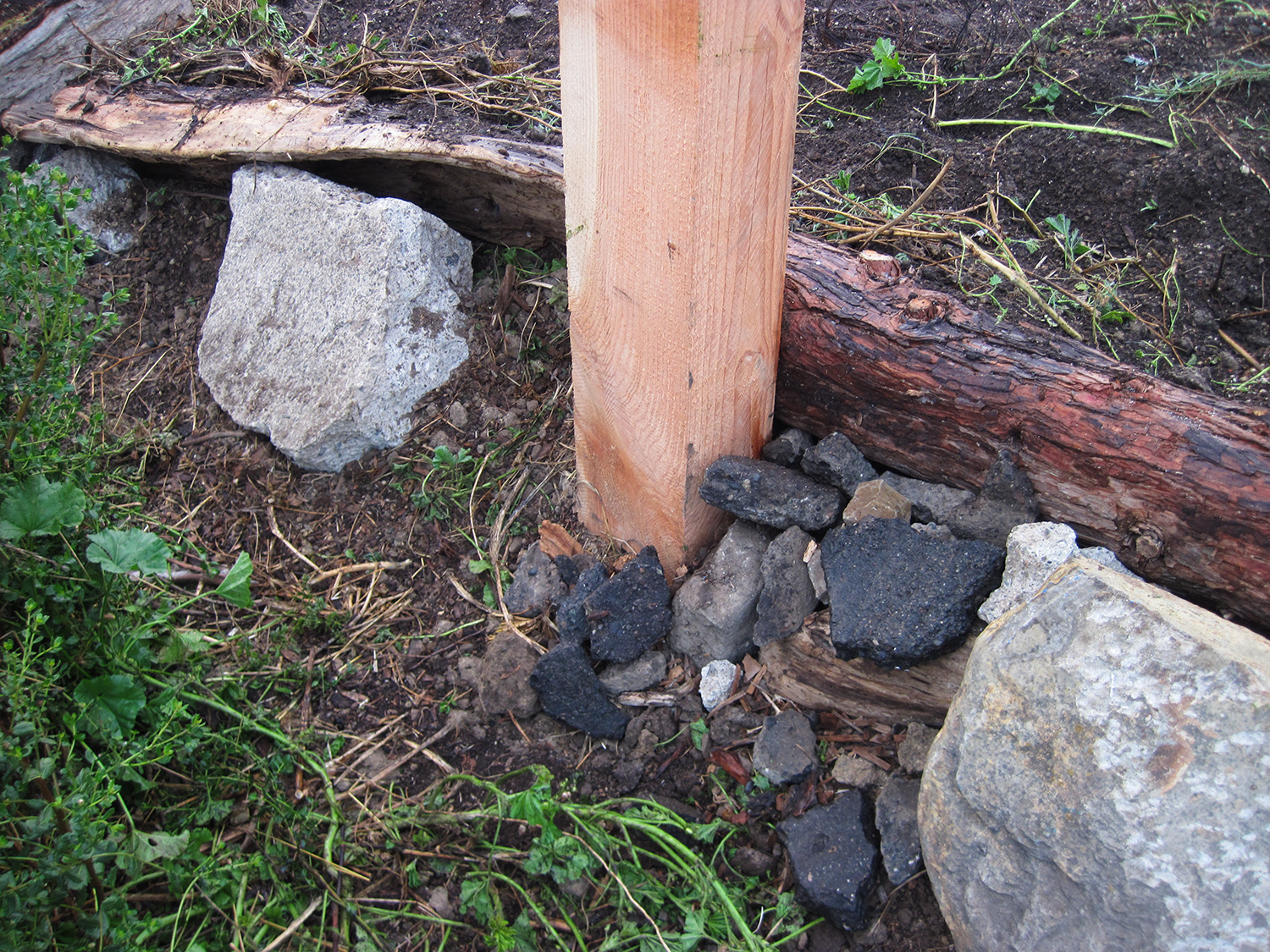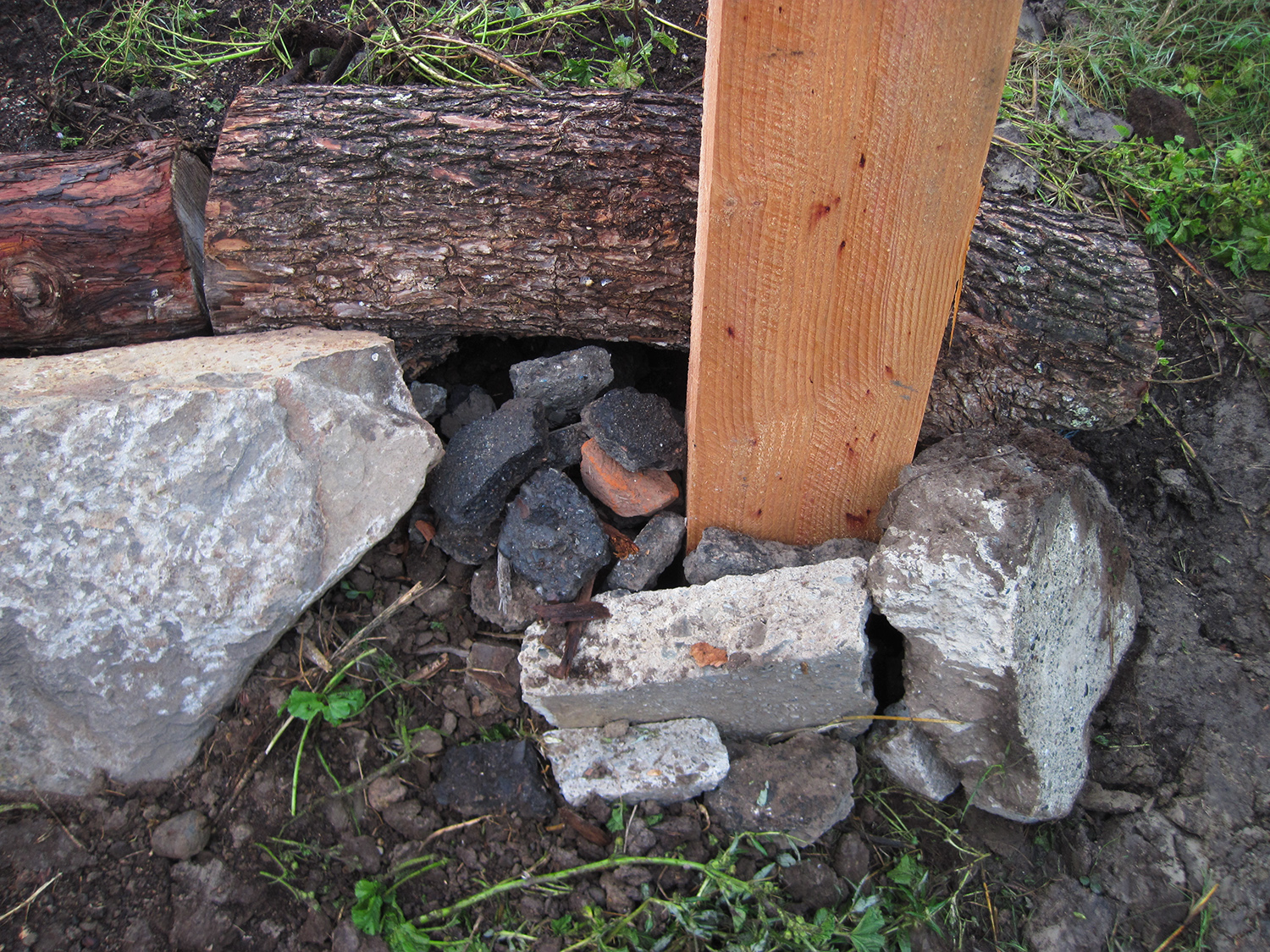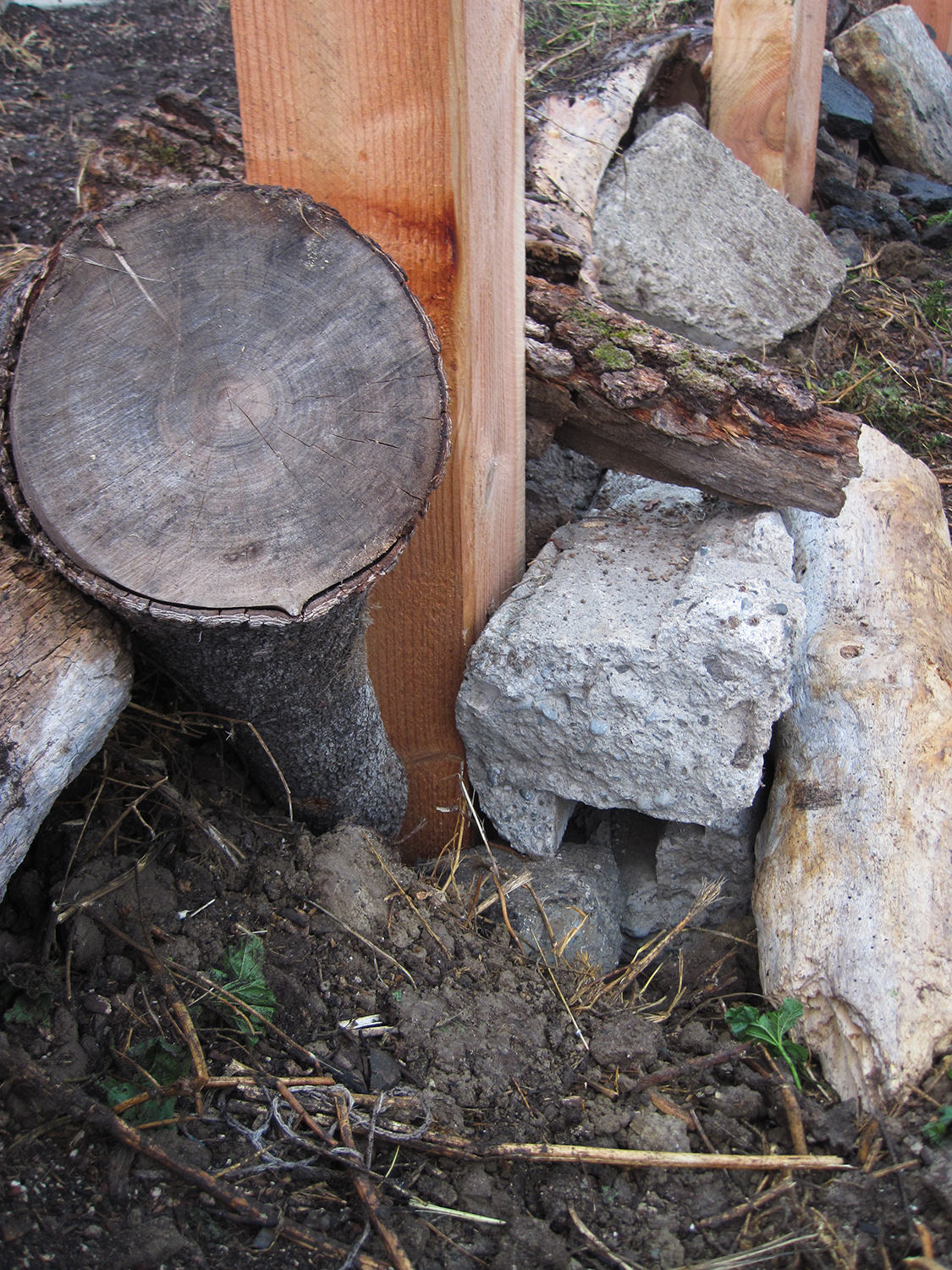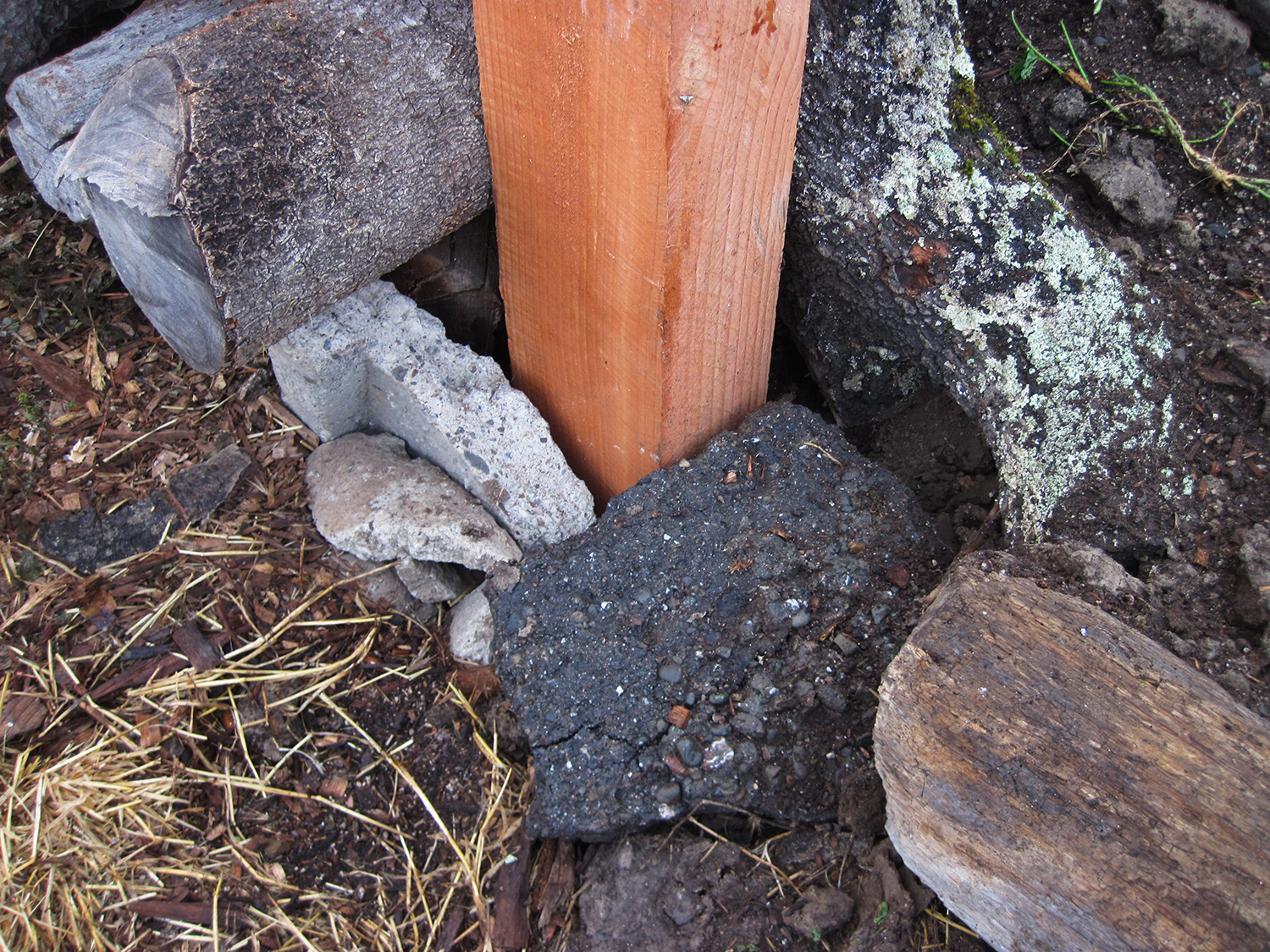 Nice job, again, Sunny and the Biology students (Uly, Tristan, Nick, Moses, Matt, Lily, Leo, Lauren, Kaleb, Jenna, Hannah, Cordy, Coco, Brendan), and Dave.
Everyone, enjoy your wildlife habitat creations!  Play outdoors!
Tony