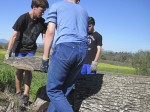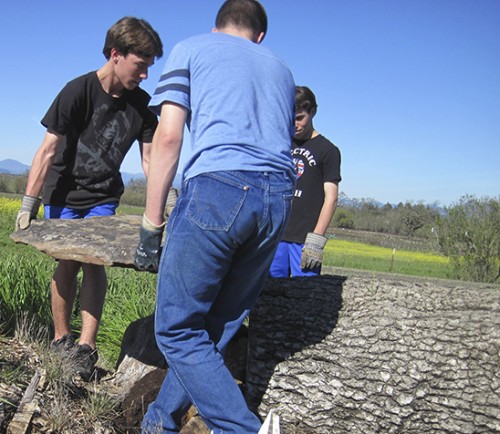 Dark Soil Light Wood Saddleback is an Outdoor Classroom wildlife habitat installation at the Laguna Foundation's Laguna Environmental Center, or LEC, located at 900 Sanford Road, Santa Rosa, California, 95401. Date: February 23, 2017.  School: Orchard View School, Sebastopol, California.  Teacher: Sunny Galbraith.  Me: Tony McGuigan, from Spore Lore.
Dark Soil Light Wood Saddleback (now that's a name!) hereinafter "Saddleback" installation.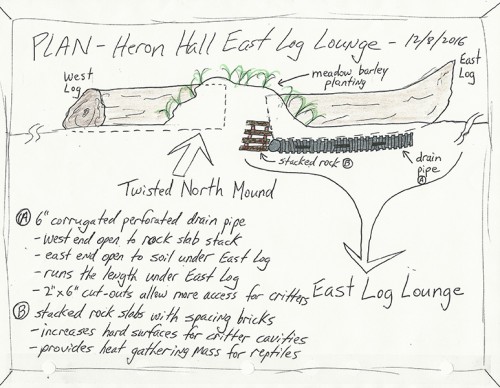 The Plan, from 2 months before the project.  Name change was inevitable; the students had not been consulted.  Plan is North View.  Our project, Saddleback, is under East Log and the mounding of soil/rock/plants between the two logs.
In a nutshell, Saddleback is a wildlife habitat installation using a large trunk section to shelter an underground tunnel that leads to a rock outcropping and the surface.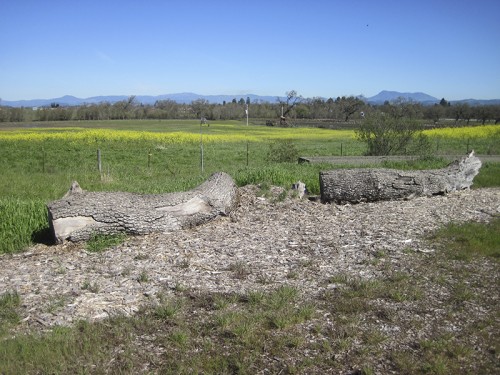 Dark Soil Light Wood Saddleback — The Before.  North east view.  February in Sonoma County means mustard!  Note the swath of vibrant yellow mustard in the lush grass-happy cow pasture beyond the Laguna Environmental Center's fenceline.  The line of trees on the pasture's north border is Irwin Creek.
Prep — 3 Months Before Installation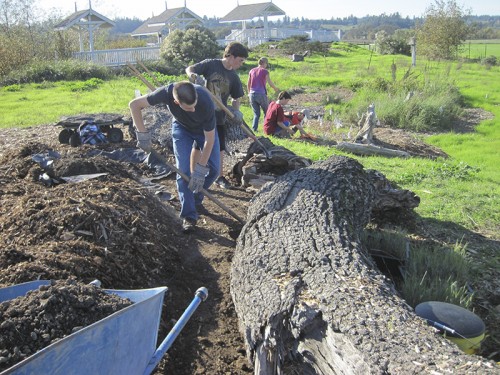 Saddleback is a sister habitat to a previous outdoor classroom wildlife habitat installation: Twisted North Mound.  In foreground, a student removes clay soil from under East Log to build the soil mound behind him.  The trench was then filled with woodchips for easy removal when East Log's habitat is created (beats digging out clay soil!).
Prep — Installation Day — Before Students Arrive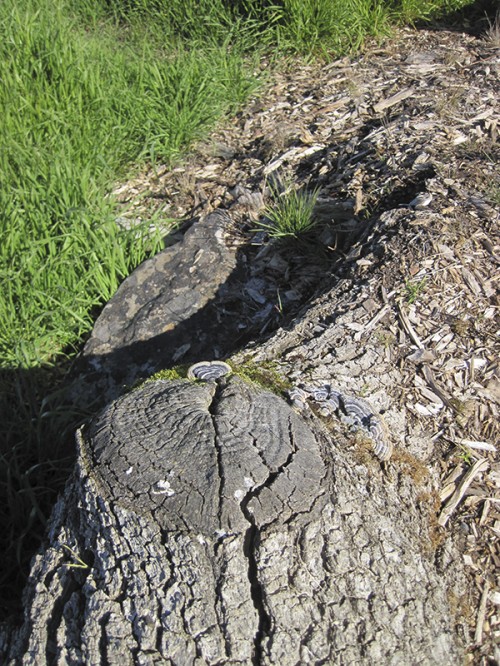 Turkey tail fungus on the oak trunk of West Log.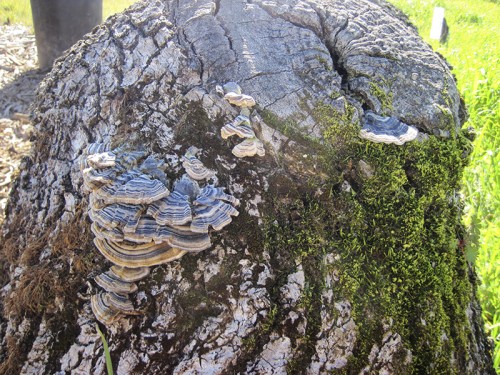 Turkey Tail fungus.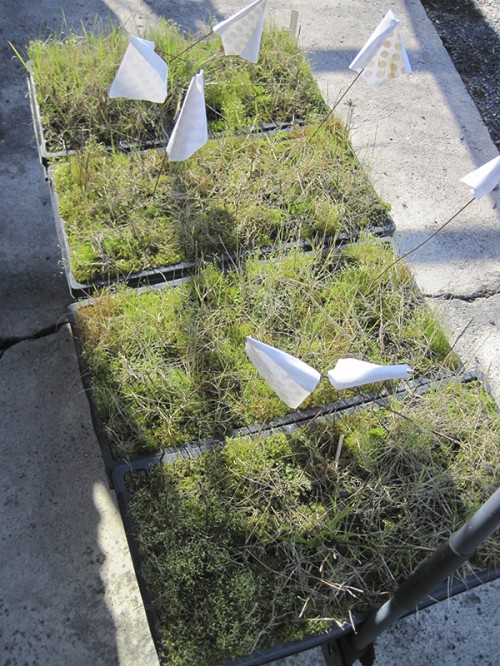 Meadow barley (Hordeum brachyantherum) plugs that will be used for the project.  These plugs are leftovers in the Nursery; their survival rate will be poor.  But, some may live to thrive in the habitat.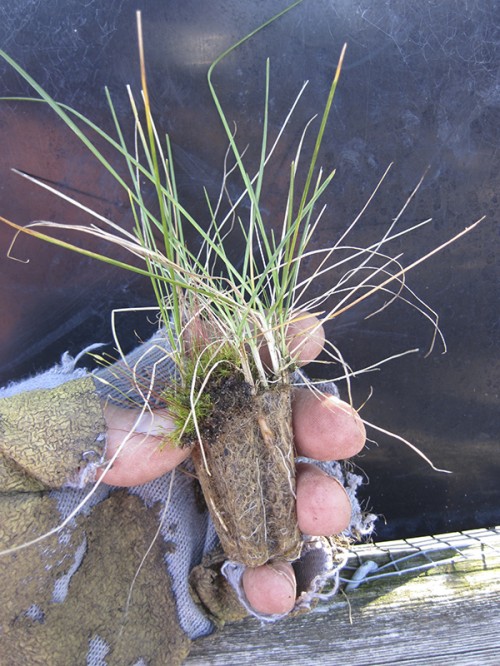 A plug of meadow barley.  Note the moss "weed".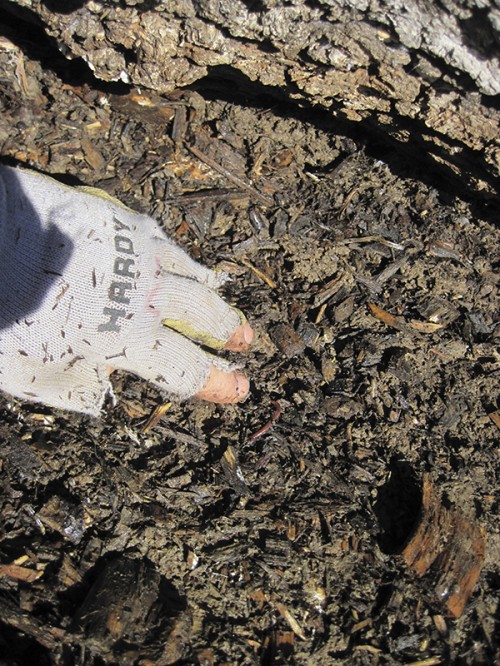 Scraping away woodchips from under the East Log.  See "Prep — 3 Months Before Installation", above.  Note the earthworm at my fingertips.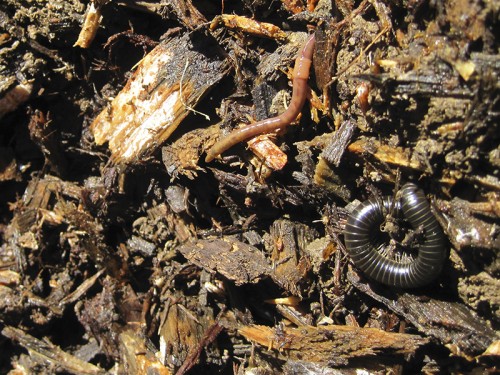 Soil critters thriving in the moist decaying woodchips under (shaded from sun) in the previously made trench.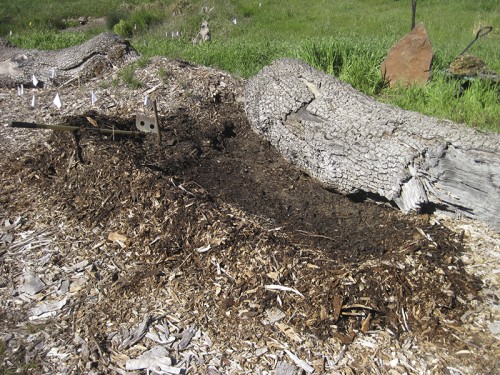 Scraping away woodchips to preserve their integrity.  We want to keep the soil we move from mixing with the woodchips.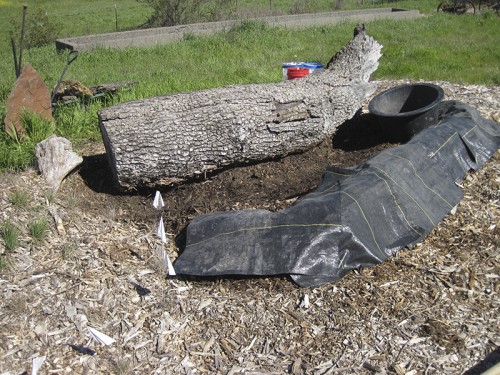 Shading the woodchip pile with landscape cloth to minimize soil microbe/fungus fatality.  The partially broken down woodchips are richly impregnated with decomposers, that is, microbes and fungus and arthropods and gastropods that want to eat the woodchips, thrive in them.  Would be a shame to kill off such biota while installing a habitat.  The opaque landscape cloth will keep harsh sunlight from the woodchip dwellers.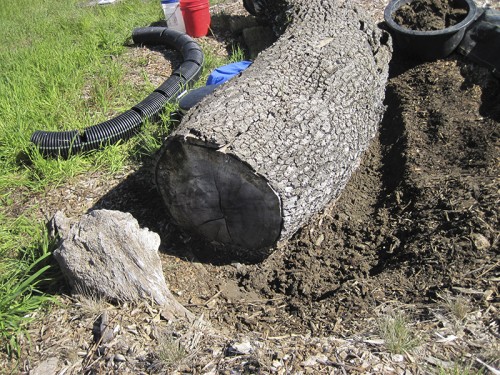 Taking shape.  The trench under East Log is deepened.  Soil in the tub, from the trench, will be added to Saddleback when the meadow barley is planted.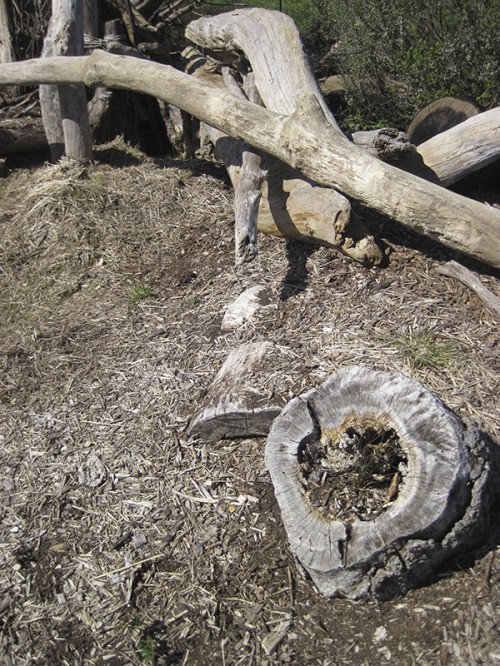 Shopping for something organic, something ALIVE! at the Habitat Resource Pile (an old woodchip pile with buried treasures).  Note the middle stump, adjacent to the eaten out stump in the foreground — it has lived inside a large woodchip for over 3 years, always covered by chips.  Now it is ripe to pick and place in a wildlife habitat.  The stump itself is alive — it is impregnated with Life.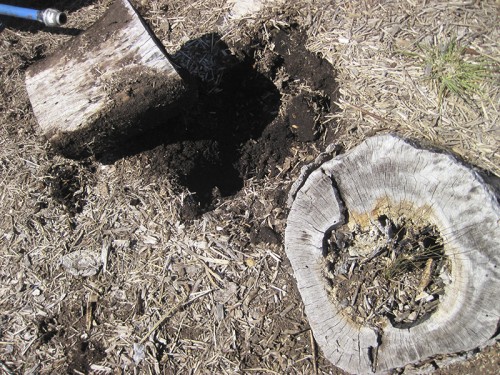 Prying Middle Stump (think Middle Earth) from the Habitat Garden's woodchip pile.  Note the dark richness of its bed — Are these woodchips are is this soil?!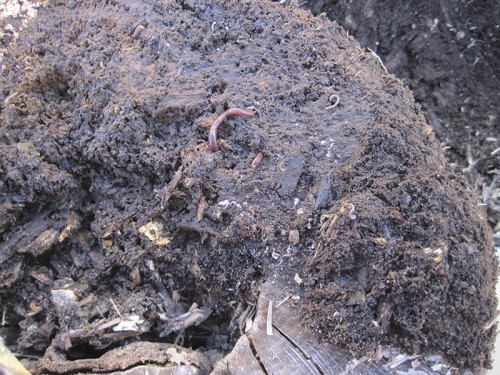 Habitat it and they will come!  Lots of Life, critters seen and unseen, fungi, stored water and its biome.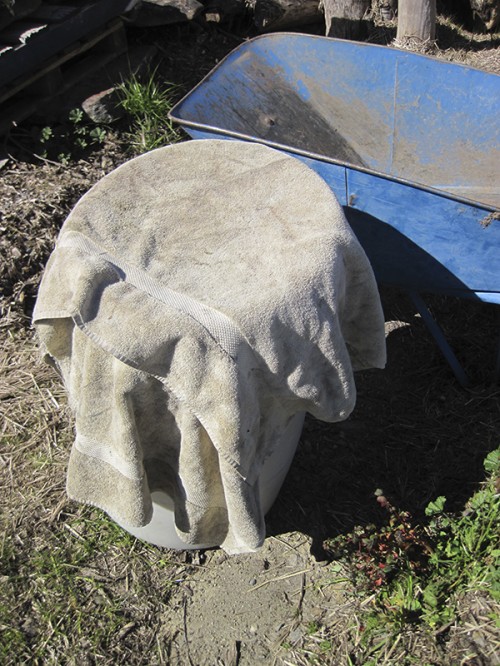 Stored in a tub, the precious stump is shaded in a plastic barrel.  The stump's transfer to the habitat will be in a few hours.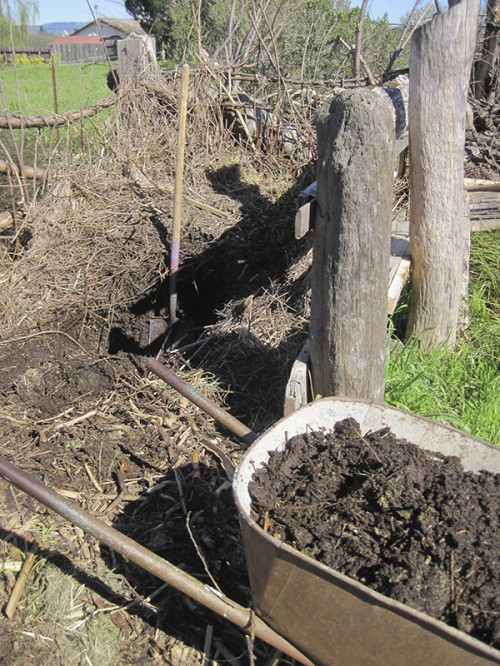 Harvesting compost from Compost Cricket Corral, as mentioned in my last post, Centipede Tunnel Perch.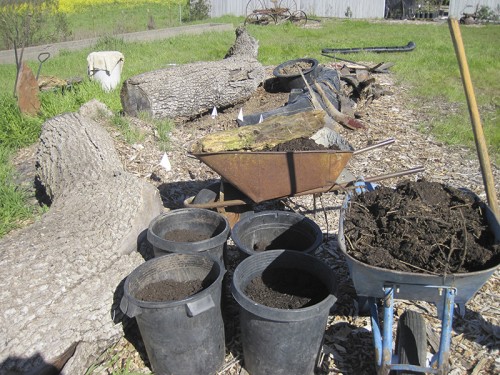 Prep.  Clockwise from foreground: 4-15 gallon pots filled with Nursery-discarded potting soil (free!), West Log, Cold Water Canyon rock slabs (standing and on garden cart), Middle Stump in white plastic shaded bin, plants (behind East Log in shade), black plastic bin of topsoil from East Log trench, tunnel of corrugated perforated habitated (holes cut in for critter entrance/exit) 6″ ABS, palm fronds, black landscape cloth covered mound of woodchips, wheelbarrow (rusty) of compost with an algae covered log, wheelbarrow (blue) of compost.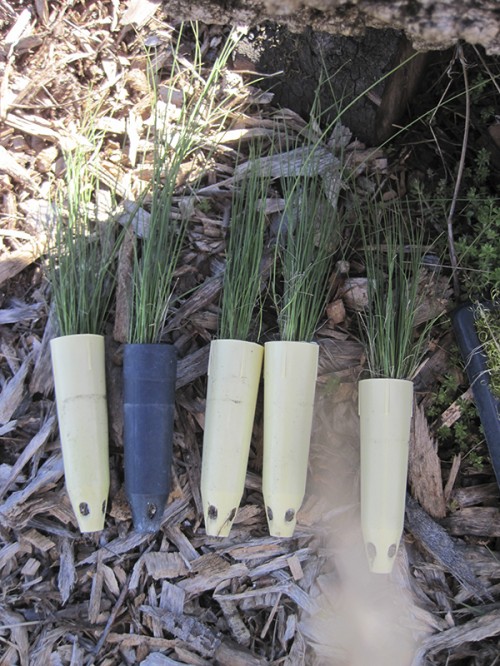 A bonus gift!  We have 5 juncus Juncus patens to plant.  Juncus, a reed, loves water; their presence indicates year-round water.
Installation — Dark Soil Light Wood Saddleback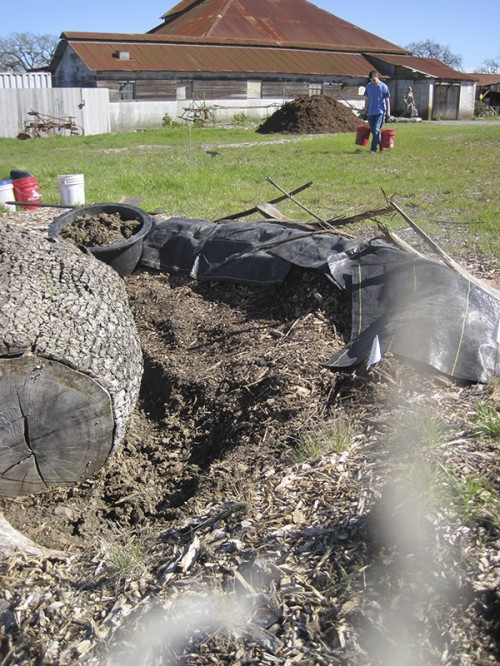 Students have arrived and gather woodchips that will be used to finish the project.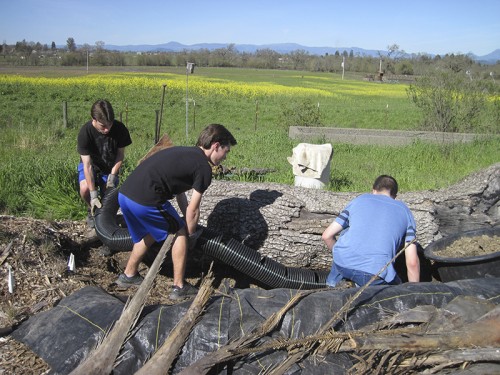 In goes the tunnel, a custom designed critter tunnel, "Each Exit/Entrance is about 6-8″ long and 2″ wide (2 corrugation trenches).", as described in Centipede Tunnel Perch.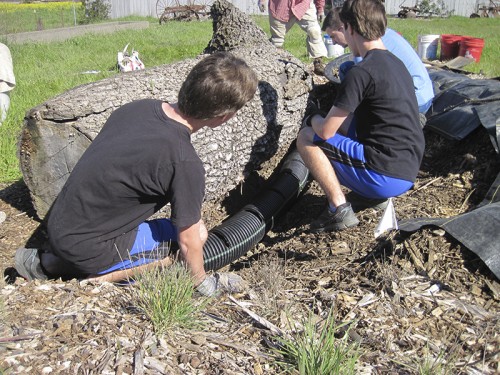 Decisions, decisions — it is a school day after all.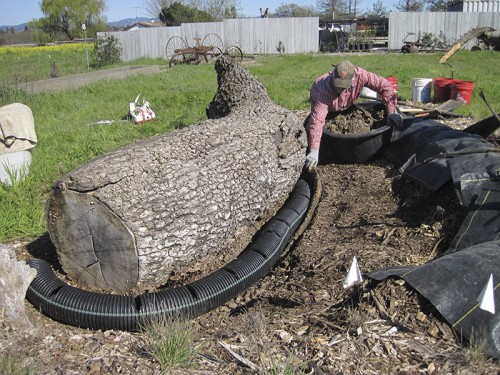 Critter tunnel in place.  Note the spaced cut-outs.  Are you [critter] in or are you out?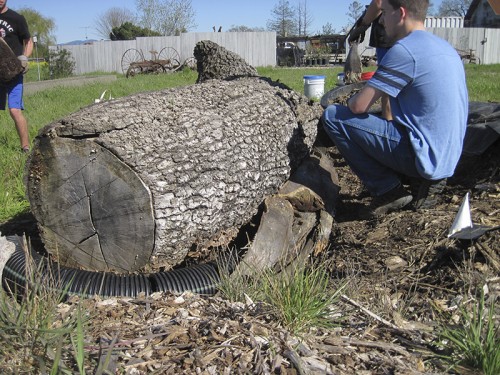 Old palm fronds, salvaged/harvested from the Habitat Garden Resource Pile, are used to line the tunnel.  Accomplishes: 1) keeps tunnel in place, 2) installs Life-alive! biome to project, 3) provides critters with a moisture laden maze of cavities, and 4) empties the palm frond pile.  Turn trash to treasure!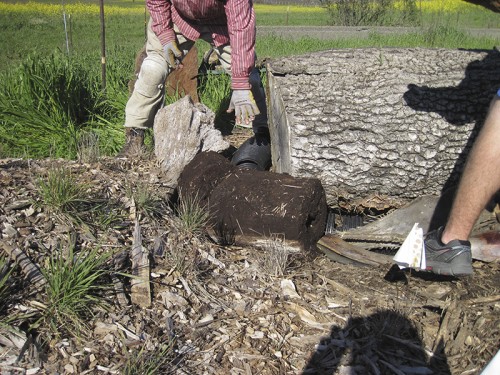 Middle Stump has a new home.  Saddleback gets an infussion of life.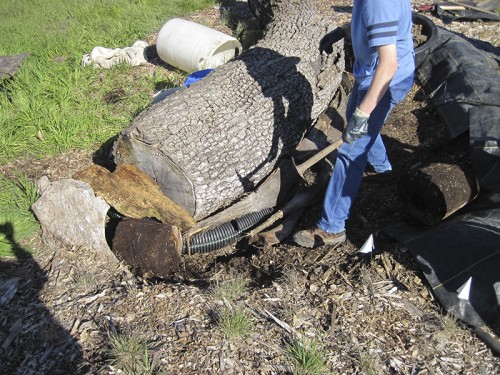 Adding more wood for the habitat's cavern-filled mound.  Also, scraping soil to cover tunnel/palm fronds.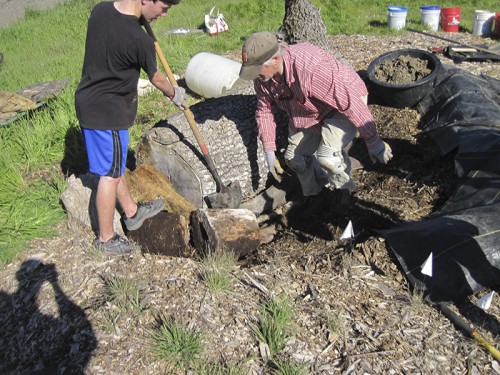 Backfilling to plant up against East Log.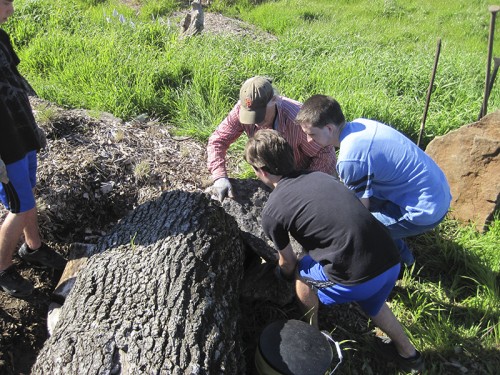 Moving a rock slab into Saddleback.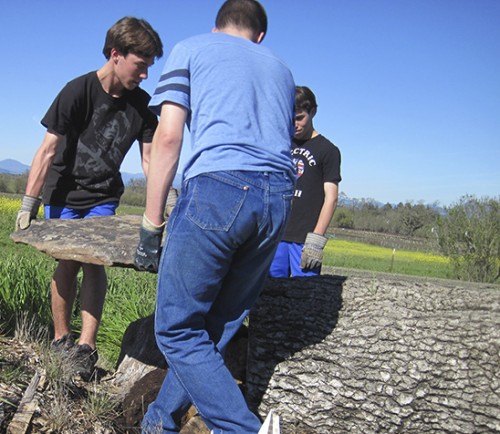 And another rock.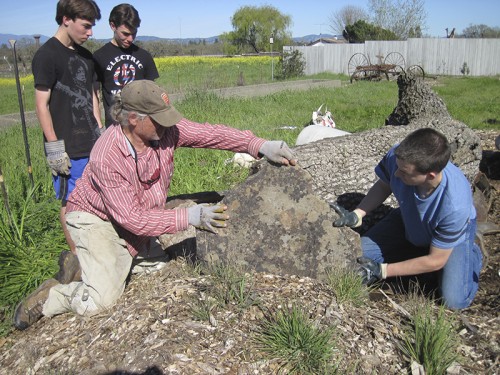 The goal here is to create a planting mound joined with the plants in the foreground, those meadow barley of Twisted North Mound.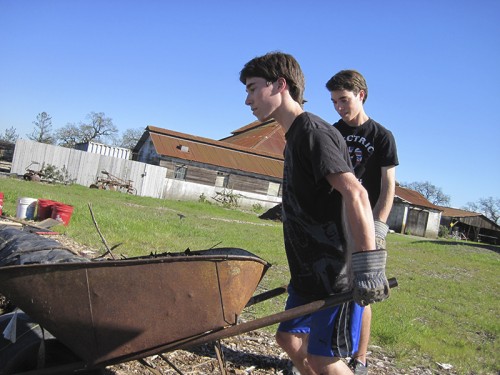 Soil for the mound.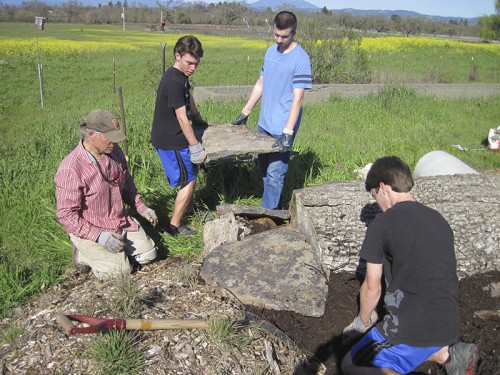 In comes a cavity maker.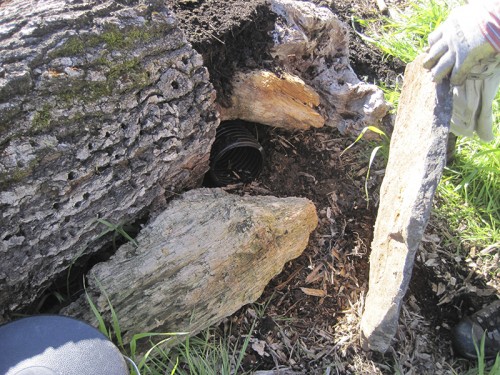 Saddleback's north side is about to get a rock slab that will create cavities.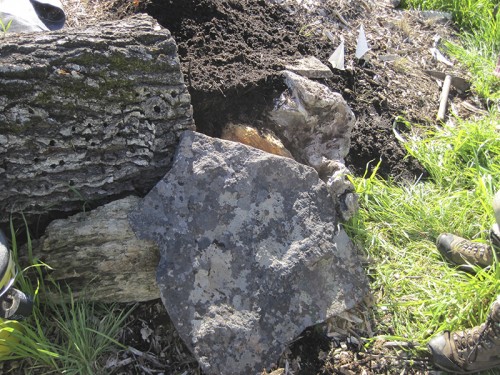 North end of Saddleback sealed off with a rock slab.  Middle Stump is really now in Middle Earth!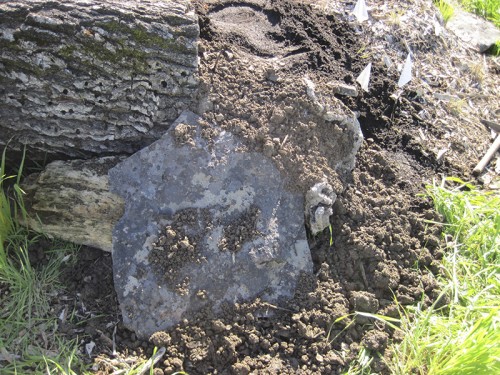 Mounding soil.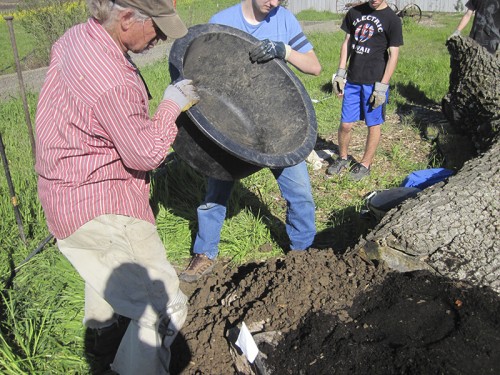 And the bin of topsoil.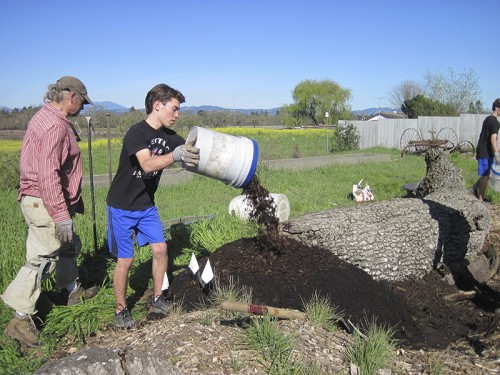 Woodchips.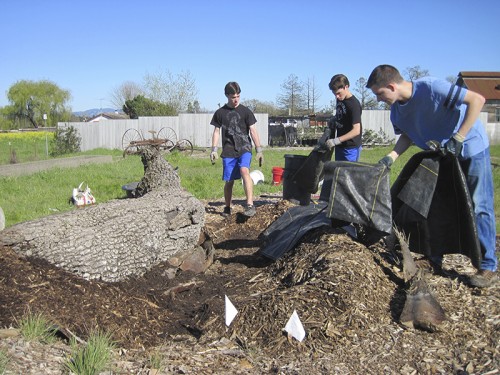 Time to reclaim the woodchips from the start of the project.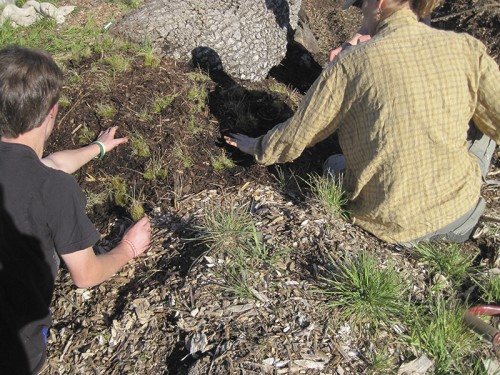 Planting meadow barley.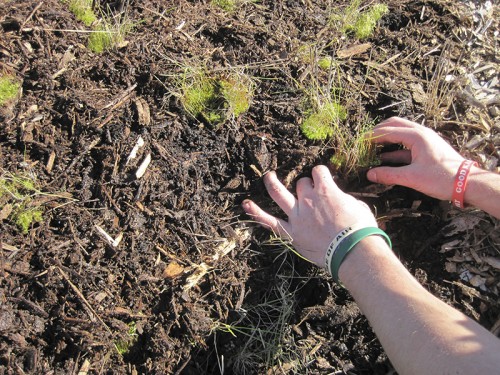 Each meadow barley plug is planted top flush with soil surface.  Then the grasses are lightly surrounded with woodchips, enough to support the grasses but not so much to block sunlight.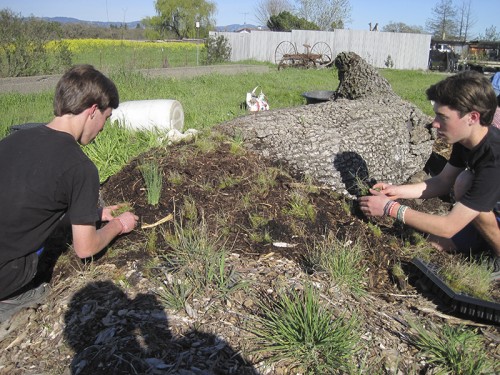 Planting meadow barley and juncus.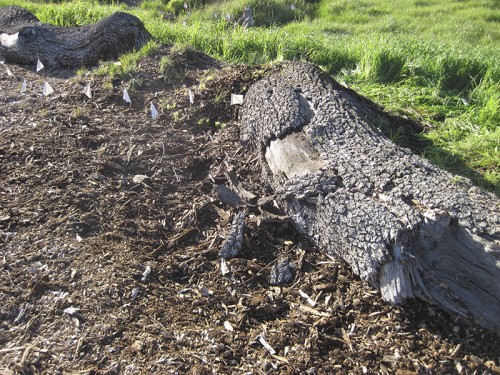 Dark Soil Light Wood Saddleback — The After.
1 Month After Installation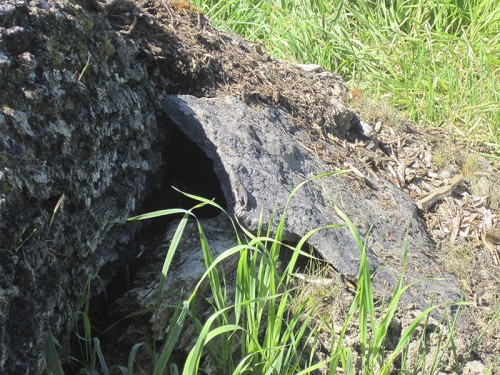 A western fence lizard surfaces from within Saddleback.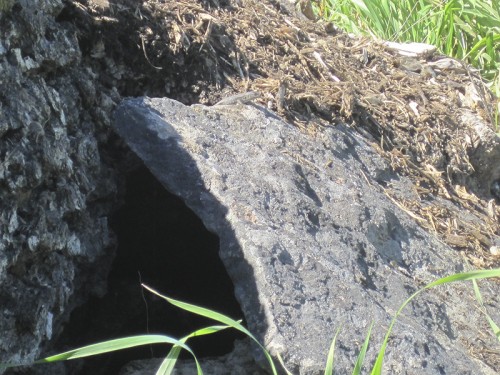 Same lizard back inside and out another exit.  Fun in the sun.
Thank you, as always, to Sunny Galbraith, teacher at Orchard View School, Sebastopol, and her students.  Also, much thanks to the Staff and Board of the Laguna Foundation, particularly the Restoration and Conservation Science Department: Wendy Trowbridge, Director; Brent Reed, Ecological Program Manager; Sarah Gordon, Conservation Science Program Manager; Paul Weber, Restoration Field Supervisor; Asa Voight, Restoration Technician II; Hannah Werdmuller, Restoration Technician; and Julie Skopal, Nursery Manager.
Enjoy your habitat installations.  Habitat it!
Tony