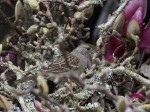 Twisty Toad Tunnel is a hugelkultur wildlife habitat in our Northern California garden.  I severely pruned back a lichen-covered and overgrown tulip magnolia tree and stuffed the cut-down limbs, prunings, and cutting into The Bog — a hole in our garden where we make soil by winter and grow crops by summer.  Much of the magnolia cuttings are elegantly draped with lichens, surely a beneficial source of wildlife shelter and food for animals microscopic to crawling to larger.
The beginning of this post focuses on video installations of Twisty Toad Tunnel.
The last paragraph provides you with a link to learn more about Twisty Toad Tunnels' rich lichen contribution to out wildlife habitat hugelkultur.
Installation of Twisty Toad Tunnel
Learn more about Twisty Toad Tunnels' rich lichens
Today (the 14th) is my monthly blog post at Native Plants and Wildlife Gardens.  This month, my blog article discusses how lichens support wildlife habitat in our residential gardens.
Enjoy!  And please comment me under my NP & WG article if you have any comments or questions.
Tony