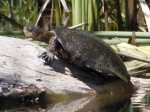 See the post
for more pictures and for how these habitat installations were created.
Yesterday (the 14th) was my monthly blog post at Native Plants and Wildlife Gardens. This month, my blog article discusses these wildlife habitat installations at the Laguna Environmental Cental in Santa Rosa, California.
Enjoy! And please comment me under my NP & WG article if you have any comments or questions.
Tony